Three Pyrotechnicians Hurt in Cherokee and Carroll County Fireworks Display Incidents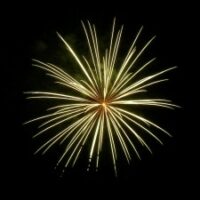 On Independence Day, at least three people were hurt by professional fireworks displays in two separate Georgia incidents. In Cherokee County, two pyrotechnicians were injured when an aerial firework exploded too close to the ground at the City of Woodstock's annual fireworks show. According to Woodstock Police Department spokesperson Randy Milligan, the fireworks display was temporarily halted while one of the men was taken by emergency crews to a local hospital in stable condition. A second pyrotechnician was treated at the scene for his injuries. The pyrotechnicians are reportedly employees of a fireworks vendor the City of Woodstock contracted with to operate the presentation. After the men were treated, the fireworks show resumed.
In Carroll County, two pyrotechnicians were igniting fireworks for the Legion Lake fireworks display onboard a pontoon boat when a container full of fireworks blew up. Both men reportedly jumped into the lake following the explosion. One man was transported by emergency responders to Grady Memorial Hospital with third degree burns. According to paramedics on the scene, the other pyrotechnician refused treatment and his condition is currently unknown. The Legion Lake fireworks show was ended early in response to the accident.
Millions of burn injuries reported every year in the United States are completely preventable. Many burn victims die each year, and scores are permanently disabled as a result of their injuries. Burn patients often require costly and extensive medical care for their initial treatment, rehabilitation, and any necessary reconstructive surgery. If you or a loved one suffered an unexpected burn injury, you should contact a qualified burn injury lawyer to help you protect your rights.
Injured employees such as the pyrotechnicians in Cherokee County may also be protected by Georgia workers' compensation laws. Workers who are hurt or killed on the job in the State of Georgia may be eligible to receive compensation for medical expenses, lost income, and funeral expenses. If you were injured or lost a family member in a workplace accident, it is a good idea to discuss your options with a knowledgeable Atlanta work-related injury attorney as soon as you are able.
If you were hurt or lost a close family member in a burn accident, contact the Metro Atlanta lawyers at Stokes & Kopitsky, P.A. today. Our experienced burn accident attorneys are available to help you file your personal injury claim. At Stokes & Kopitsky, our lawyers have more than 30 years of combined experience helping clients throughout Georgia achieve the compensation they deserve for their unexpected injuries. For a free confidential case evaluation, please call attorneys Greg Stokes and Neil Kopitsky toll free at (800) 700-5050, or contact us through the law firm's website.
More Blogs:
Dog Bite Insurance Claims Increased Last Year Throughout Georgia, Nationwide, The Atlanta Personal Injury Attorney's Blog, June 25, 2012
Four Vehicle Pile-Up on I-95 Near Savannah Sends Three to Hospital, The Atlanta Personal Injury Attorney's Blog, April 2, 2012
Additional Resources:
Pyrotechnicians injured in fireworks accidents, by Jay Black and Jennifer Griffies, wsbradio.com
Photo credit: JosephHart, Stock.xchng
Categories: