Body of 13-Year-Old Found After Lake Lanier Boat Crash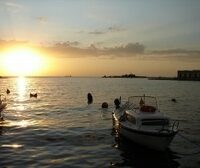 Last week, the body of a boy missing since June 18th was found 113 feet below the surface of Lake Lanier. 13-year-old Griffin Prince fell overboard after a 2002 Sea Fox fishing boat driven by 44-year-old Paul Bennett of Cumming allegedly struck the pontoon boat he was riding in around 10:30 pm. Griffin's 9-year-old brother, Jake, was also killed in the accident.
Immediately following the collision, law enforcement officials received seven 911 calls. Directions to the exact location of the accident, however, were reportedly difficult to obtain from the frantic callers. A crash witness, Phil Johnson, eventually provided the exact coordinates of the boat's location to an emergency dispatcher.
Divers from both the Hall County Sheriff's Office and the Federal Bureau of Investigation used cadaver dogs and sonar equipment to find the boy's body in what is reportedly one of the darkest areas of the lake. Investigators from the Department of Natural Resources (DNR) are currently attempting to reconstruct the fatal collision. Although both boats were believed to be moving at the time of the crash, investigators believe Bennett's boat was moving considerably faster. Additionally, the pontoon boat sustained heavy damage.
After the crash, Bennett was taken into custody and charged with boating under the influence. The Hall County District Attorney's Office is reportedly awaiting results from the investigation before determining whether to file additional charges against him. According to a representative from the DNR, Bennett may also be charged with homicide in connection with the collision.
Wrongful death occurs when an individual's unnatural or untimely death is caused by another person's negligent, intentional, or reckless actions. Such conduct may include drunk driving, elder abuse, medical malpractice, causing a motor vehicle or boating accident, or any other unsafe conduct that results in another person's death.
Only specific family members such as a spouse, children, or parents may bring a wrongful death lawsuit. The Official Code of Georgia Annotated §51-4-1 allows the close relatives of someone killed by another person's negligence to recover for the full value of the life of the person killed. In some cases, punitive damages may also be awarded. Although no amount of money can take away the pain of losing a loved one, you may be able to deter the negligent behavior that caused your loss in the future by filing a wrongful death lawsuit. Contact a capable Georgia wrongful death lawyer to discuss your rights.
If your spouse or close family member died in an accident caused by someone else's negligence, call Stokes & Kopitsky, P.A. toll free at (800) 700-5050 today. Our knowledgeable Atlanta wrongful death attorneys are available to assist you with filing your wrongful death claim. At Stokes & Kopitsky, our dedicated personal injury lawyers have more than 30 years of combined experience helping clients throughout the State of Georgia achieve the compensation they deserve after losing a loved one in a tragic accident. For a free confidential case evaluation, please contact attorneys Greg Stokes and Neil Kopitsky through our website.
More Blogs:
Dog Bite Insurance Claims Increased Last Year Throughout Georgia, Nationwide, The Atlanta Personal Injury Attorney's Blog, June 25, 2012
Road Construction Worker Critically Injured by Hit-and-Run Driver on I-575 in Woodstock, The Atlanta Personal Injury Attorney's Blog, June 18, 2012
Additional Resources:
Boy missing from boat accident on Lake Lanier found, by Christopher King and Jocelyn Connell, cbsatlanta.com
Body of Griffin Prince found at Lake Lanier, by Christian Boone and Alexis Stevens, Atlanta Journal-Constitution
911 tape reveals chaotic aftermath of Lanier boat crash, by Christian Boone, Atlanta Journal-Constitution
Photo credit: GHerrmann, Stock.xchng
Categories: