Owner of Dogs That Mauled DeKalb Girl Denies Negligence–OCGA§4-8-25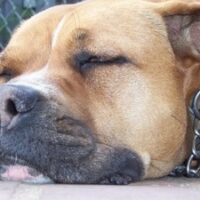 This week, DeKalb jurors heard testimony about a dog mauling that took the left arm of an eight-year-old girl. The Solicitor-General played tapes of a frantic 911 call during the attack as well as the testimony of the dog owner, who showed remorse for the little girl. The judge should make a ruling after hearing closing arguments, scheduled for the end of this week.
Erin Ingram, 8, was waiting for friends outside her home in Lithonia when she was attacked by two neighborhood dogs. Twyann Vaughn owned the two Staffordshire terrier mixes and left the dogs unattended while she packed for a move. A neighbor heard Erin screaming and called the police. While waiting for the police, one woman tried to scare the dogs away with her car; another tried to beat them with an umbrella. A DeKalb police sergeant arrived and hit the canines with a metal baton. After repeated blows, the dogs let go of Erin and turned on the officer. He shot one of the dogs the other ran home. The second dog was later euthanized. After the mauling, doctors had to amputate Erin's left arm. She was in third grade.
Dog owner Vaughn was charged with six counts of reckless conduct, violation of DeKalb's vicious dog ordinance, and failure to immunize for rabies. She received two counts for each charge, one for each dog. If convicted, Vaughn could face up to five years in prison. Vaughn and her teenage son, Marquis Edwards, contradicted testimony of another young neighbor who claimed the dogs bit him. Edwards also disputed Erin's testimony that she only had one prior contact with the pets. According to Edwards, the dogs were constant companions to all the neighborhood children while they played. They did not roam around "scaring and threatening" residents as witnesses claimed. Edwards cried when showed a picture of Sandy, the dog who had been shot and killed. Vaughn's attorney called the incident an unfortunate accident, not a crime.
Georgia follows the "one bite rule." After the first time a dog bites a person, the owner is considered "on notice" of the dog's behavior and is then liable for any future damages caused by the dog. The Official Code of Georgia Annotated (OCGA) §51-2-7 provides:
A person who owns or keeps a vicious or dangerous animal and negligently allows the animal to roam free may be liable in damages if the dog injures another person.
The owner presumably "knew or should have known" of the dog's vicious propensity if it "was not at heel or on a leash" or bit someone on a prior occasion. OCGA §4-8-25 then requires owners to register the dog as "dangerous" with the Georgia Dangerous Dog Control Office. Under OCGA §4-8-30, the owner becomes solely liable for any injuries it may cause, even if other parties "contributed" to the negligence by provoking or letting the dog loose.
If you or a family member or friend has been mauled or bitten by a dog, an experienced Atlanta dog bite attorney can help. For over 30 years, Stokes & Kopitsky has successfully handled dog bite cases and fought for the rights of injured victims. We know that dog-related injuries can result in expensive medical costs, lost wages, and other expenses, all of which must be taken into account when calculating your recovery. We work with you to help you receive fair compensation for your injuries and do not get paid unless you get a recovery. For a free consultation, contact us online or call (800) 700-5050.
More Blog Posts:How does a Georgia Insurance Adjuster decide the value of a Car Accident Case? The Atlanta Personal Injury Attorneys Blog
What is Liability and how do you prove it in a Georgia Car Accident Case? The Atlanta Personal Injury Attorneys Blog
Georgia Appeals Court Says Cruise Ship Cannot Limit Liability for Passenger's Injury-Johnson v. Royal Caribbean Cruises Ltd., The Atlanta Personal Injury Attorneys Blog
Categories: