What is Liability and how do you prove it in a Georgia Car Accident Case?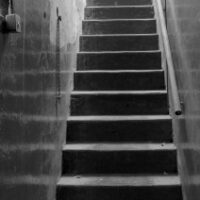 As injury attorneys, we sometimes know how the victim was injured, but we don't know who was responsible, or exactly what they did. Proving that someone else had legal "liability" for the injury – meaning that it was their fault because they did something wrong that resulted in the injury – can take a great deal of skill.
We had a case where we represented a young girl who fell down the stairs at an apartment building. Her injuries were extremely serious. She broke her jaw off, broke her teeth out, and was hospitalized for a long time.
The first challenge we faced was to find out if there had been a violation of the legal "standard of care" for an apartment staircase. We had the staircase evaluated by a building standards expert from Georgia Tech. He found that the metal supports that should have been completely UNDER each concrete stair tread instead stuck out BEYOND each tread. Each stair had a metal "lip" which could catch a person's shoe. This was a serious violation of the building code. When the little girl came down the stairs, her heel caught on one of these metal lips, and she lost her balance and fell face-first down the stairs.
The next step of proving liability required us to show that the apartment building owner knew about this violation and did not fix it. In our investigation, we found that a new company had bought the building six months before the accident. We subpoenaed all the sale documents, and found that when they bought the building, the company inspected the stairs and actually documented the problem of the dangerous stair treads that violated the building code. But even though the company had become aware of this defect, they did not repair it.
As a result of our expert investigation, our legal efforts to find out who owned the property, when they had purchased it, and whether they had inspected it and discovered the defect, and our subpoena for all the company's sale documents that we could use to prove their fault, we recovered an $800,000 settlement for the injured little girl.
The lesson is this: if you or someone you love is seriously injured on property owned by someone else, ALWAYS consult an experienced injury attorney. We have the skills to handle the legal investigation and court process, the financial ability to hire the best experts to help us perform a complete and scientific investigation, and the negotiating ability to obtain the settlement someone deserves when they are seriously injured due to another person's fault.
If you have a case with serious injuries but are not sure who is responsible, please call us at Stokes & Kopitsky. We have answers to your questions, along with excellent legal skills and years of experience investigating all types of serious injury and death cases. We are ready now to help you.
Our phones are answered 24/7, and your first consultation is free. Our fees and costs are paid from any settlement or court award we obtain for you; if there is none, there are no fees. Please call Stokes & Kopitsky toll-free at 800-700-5050 for the dedicated, high-quality legal help you deserve if you or someone in your family has been seriously injured in an accident.