Two Carrollton Police Officers Injured While Investigating Hit-and-Run Pedestrian Accident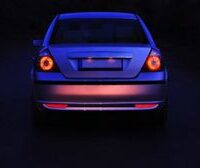 Two Carrollton law enforcement officers were recently injured while investigating a hit-and-run pedestrian accident when a motor vehicle unexpectedly struck them in the road. According to the Georgia State Patrol, Brent Dougans and Mario Potts were hit while standing in the street near the intersection of Bankhead Highway and Almon Road at night. A motorist reportedly struck the two police officers after he entered a barricaded section of the roadway from a side street. A representative for the Georgia State Patrol said it appears that the driver did not see the two men because his windshield was fogged over. Following the crash, Officer Potts was allegedly transported to the Atlanta Medical Center by emergency helicopter. Rescue crews reportedly took Officer Dugans to the Tanner Medical Center in Carrollton where he was treated and released. The Georgia State Patrol said alcohol was not a suspected factor in the accident.
At the time of the collision, the two law enforcement officers were investigating an earlier hit-and-run crash that allegedly left an unnamed pedestrian seriously injured. According to Carrollton Police Captain Chris Dodd, emergency responders transported the pedestrian to the Atlanta Medical Center following a night-time hit-and-run accident. The driver, Luis Alonzo Castellano-Mejia, was reportedly captured after he fled the accident scene on foot. After he was apprehended, the 38-year-old man was charged with driving under the influence, reckless driving, leaving the scene of an injury accident, failure to stay in his driving lane, and operating a motor vehicle without a license.
When you consider how much time Georgia residents spend in their motor vehicles, it's not hard to believe that automobile collisions are one of the leading causes of personal injury and death throughout the state every year. Car accidents may be caused by impaired, inattentive, or reckless drivers, dangerous road conditions, motor vehicle defects, and a number of other factors. Although an auto accident may be minor, crashes too often result in serious and catastrophic injuries to other motorists, passengers, bicyclists, and pedestrians.
Unfortunately, drunk or impaired drivers place everyone at risk when they make the choice to get behind the wheel of an automobile. If you were hurt in a car accident that was caused by an allegedly drunk driver, you may be eligible to receive financial compensation for the cost of your medical care, lost wages, any disability that resulted from the crash, pain, suffering, and other damages. An experienced Georgia personal injury lawyer can help you file your claim.
Call Stokes & Kopitsky, P.A. toll free at (800) 700-5050 if you were injured or a family member was killed in a pedestrian accident. Our capable Carrollton auto crash attorneys have more than 30 years of experience helping the victims of automobile accidents recover the damages they deserve based upon the severity of their injuries. At Stokes & Kopitsky, our dedicated lawyers are here to explain your rights and help you file your personal injury case. To schedule a free confidential case evaluation with a hardworking attorney, please do not hesitate to contact lawyers Greg Stokes and Neil Kopitsky through our website.
More Blogs:
61-Year-Old McDuffie County Man Dies After Being Crushed in Thomson Construction Accident, The Atlanta Personal Injury Attorney's Blog, November 12, 2012
32-Year-Old Singer Killed in Gwinnett County Pedestrian Accident, The Atlanta Personal Injury Attorney's Blog, November 5, 2012
Additional Resources:
Vehicles strike pedestrian, 2 Carrollton officers, by Christopher Seward, Atlanta Journal-Constitution
Photo credit: nevit, Stock.xchng
Categories: