Rhino Manufacturer Not Liable for Rollover Where Driver Assumes Risk of Injuries-Yamaha Motor Corp. v. McTaggart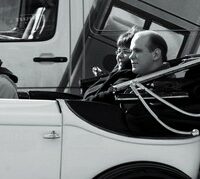 Yamaha manufactures the Rhino, a two-seater vehicle with no windows or doors. The Rhino does have a steel roof, bucket seats, handholds, foot guards, and a floorboard to "brace" the passenger's extremities in case the vehicle tips over. A warning sticker within the vehicle advises passengers of severe injury or death should they use an arm or leg to stop a rollover. The safety warning instructs occupants to keep their extremities inside the vehicle at all times.
Roger McTaggart, a gravedigger in Blue Ridge, Georgia, used his Rhino to build fences, carry equipment, and haul dirt and feed. He was injured on May 14, 2007 as he was making a right turn. The Rhino flipped over onto the driver's side, rolling onto his leg. McTaggart suffered a severe laceration on his left leg. He filed a product liability action against Yamaha, alleging the Rhino was defective because it lacked a door. The jury awarded McTaggart damages for pain, suffering, medical expenses, and lost wages. Yamaha appealed, contending the trial court erred in denying its motion for a directed verdict because McTaggart assumed the risk of his injuries. The appellate court reversed.
Assumption of risk is an affirmative defense barring the plaintiff's recovery for injuries caused by a defective product. The plaintiff "assumes the risk" of an injury if he is fully aware of the dangerous defect but freely chooses to proceed nonetheless. Here, McTaggart had actual knowledge of the danger. His testimony revealed that when he purchased the Rhino, McTaggart refused the dealership's offer to install an aftermarket plastic enclosure because he preferred to get "in and out" easily. In fact, he purposely chose the Rhino "because it had no door." McTaggert had read the operator's manual, which warned drivers not to make sharp, fast turns or stick their legs out in case of a rollover and understood the warning stickers cautioning occupants to keep their limbs inside.
In fact, McTaggart was familiar with riding in other open-air, off-road vehicles, including motorcycles, backhoes, tractors, and Yamaha all-terrain vehicles (ATVs). He could thus appreciate the dangers of operating a vehicle with no doors. Knowing the risks, McTaggart nevertheless exposed himself to the Rhino's dangers and chose to operate the vehicle without doors. By opting to engage in a dangerous activity, McTaggart assumed the risk of injury and could not recover damages for his loss. Accordingly, the trial court erred in denying Yamaha's motion for a directed verdict and its judgment must be reversed.
If you or someone you know was injured in a rollover accident, you could be entitled to compensation. Unlike the plaintiff in this products liability case, most drivers purchase their vehicles assuming they will be safe. We trust our cars to stay on the road and protect us while maneuvering through traffic. In fact, most rollover accidents are caused by factors beyond the driver's control. A latent stability defect or the negligence of another driver could be to blame.
At Stokes & Kopitsky, we understand a rollover accident is a traumatic event. That is why our dedicated attorneys painstakingly comb through all the evidence to ensure you are compensated for your pain, suffering, medical expenses, and lost wages. We do not charge attorney's fees unless we recover in your case. To speak with an experienced Atlanta rollover accident attorney, call (800) 700-5050 or contact us online.
Web Resources:
Yamaha Motor Corp. v. McTaggart, Court of Appeals of Georgia
Other Blog Posts:
Georgia Subdivision Developer Creates Hazard by Failing to Post Warning Signs Around Construction Site-JNJ Foundation Specialists Inc. v. Horton Inc., The Atlanta Personal Injury Attorneys Blog
Georgia Missionary in Coma after Truck Hits His Moped-OCGA §40-6-56's "Three Feet Rule," The Atlanta Personal Injury Attorneys Blog
Georgia Auto Accident Victim Must File Ante-Litem Notice Warning City of Lawsuit Against Officer Who Hit Her With Police Cruiser-DeLoach v. Elliott, The Atlanta Personal Injury Attorneys Blog