What is Pain and Suffering in Georgia Personal Injury Law?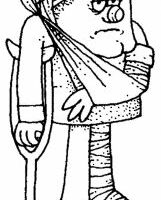 When you've been injured in an accident that is not your fault, the law says you are entitled to be paid for your "pain and suffering." This has a special legal meaning that covers everything you've gone through because of the accident, including:
Your physical suffering – all pain and uncomfortable physical experience AND
Your mental suffering – all sadness, worry, and unpleasant mental effects.
One of our clients, a young man, had terrible pain and suffering caused by an accident. He had been driving home when a city bus unexpectedly roared across an intersection and slammed into his car. His car was destroyed by the impact – so torn apart that it was hard to understand how the young man had even survived. Over the very long time the young man spent in the hospital, doctors virtually rebuilt his body.
The law does not say much money anyone's pain and suffering is worth. This is left up to a jury, who makes an award based on all the information provided at trial. We work hard to put together a complete presentation of this information. For the young man's case, we proved his pain and suffering in many ways. We used photos of his destroyed car to demonstrate the terrible shock of impact to him. We proved his many surgeries and medical treatments, and how painful they were. We established that because of the accident and all of his injuries, he would continue to have problems in the future. Using this package of evidence, we were able to obtain a very large settlement for our client, the young man, and he did not have to go through a trial.
At Stokes & Kopitsky, we are highly experienced and skilled Atlanta personal injury lawyers who can help you if you have been seriously injured in an accident that was not your fault. We offer a free initial consultation and advance all court costs. Our fees and the costs are paid from any settlement or court award we obtain for you; if there is none, there are no fees. We handle all types of serious injury and death cases, and we work as a team to help resolve the problems of injury victims and their families. Please call us toll-free at 800-700-5050 for outstanding, caring legal help. We are here for you.