The Importance of Photographs After You've Been in a Car Crash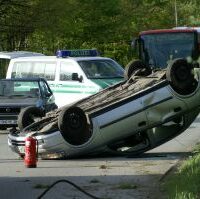 One of the most important things you can do when you're the victim of an injury accident is this: get pictures of the crash scene right away. Pictures can be taken by you or anyone else at the scene. Even next-day pictures of the road and, if possible, the vehicles, can help you get the compensation you deserve.
As Atlanta injury attorneys, we handled a case where a single photo helped us obtain a large settlement for a serious accident that happened outside of Atlanta. Our clients, a mother and child, were walking on the far right side of the road when a car in the left lane came around a corner. The car crossed the center line, came across the right lane, hit the mother and child and threw them 50 feet, into the pine trees. Our clients were so badly injured they had to be life-flighted to a hospital.
The police investigated the scene and found that the driver had crossed the center line. However, the insurance company decided to claim the accident was not the driver's fault! It completely denied responsibility. We had to file a lawsuit and go to mediation.
Fortunately, the client's mother had had the good sense to go to the accident scene the next day and take photos of the accident scene. One photo clearly showed skid marks where the car had crossed from the left lane over to the right. It was a good thing she took this photo, because the police photos did not come out. The mother's photo, showing the skid marks crossing the center line, proved what had happened and showed the driver's fault. The insurance company could not get around it, and we were finally able to get the insurer to pay our clients a large settlement.
At Stokes & Kopitsky, we have the experience and knowledge needed to handle the most complicated accidental injury cases. Please call us, 24/7, for your free consultation. You do not need any money or insurance to hire us. We do not charge any fee unless and until we obtain an award or settlement for you, and we advance all costs.
We are here to help you. If you have questions, call us toll-free at (800) 700-5050. We welcome your calls.