Georgia Subdivision Developer Creates Hazard by Failing to Post Warning Signs Around Construction Site-JNJ Foundation Specialists Inc. v. Horton Inc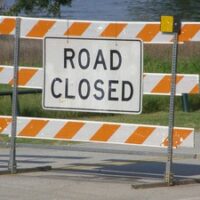 Detours in life can be enlightening; on the road they are just annoying. For lost souls wandering around without GPS or built-in navigation, the accurate placement of detour signs is imperative to reaching a destination. Drivers rely on signs to point them toward streets, away from exits, and warn them of danger. Indeed, we trust the well-appointed orange arrow to shepherd us along "the road less traveled by." We follow orange flares to merge nervously into one-lane traffic and delay our commute home. Despite the distraction, warning signs keep us safe. It is no wonder that without them, we are like lost sheep being thrown to the wolves.
Georgia resident Gary Hall would have chosen a different route had he known his traffic lane would be closed to accommodate construction. Hall was driving down Pleasant Hill Road near a construction site when he saw barrels in the middle of his lane. A cement truck was parked further down the roadway. He stopped his car to change lanes, but was rear-ended by another vehicle. Hall sued subdivision developer D.R. Horton, Inc. (Horton), alleging it negligently operated the construction site and failed to post warning signs around the cement-pouring. He argued Horton's failure to adequately mark and close the lane created a hazard on the roadway. Horton filed a cross-complaint against JNJ Foundation Specialists, Inc. (JNJ), the contractor hired to pour sidewalks for the subdivision, alleging it refused to defend and indemnify Horton for JNJ's negligent conduct. The trial court ruled in Horton's favor. JNJ appealed, arguing there was no evidence that it placed construction barrels in the roadway or caused Hall's injury. The appellate court affirmed the trial court's ruling.
The evidence showed that on the day of the collision, JNJ was pouring sidewalks at the subdivision along Pleasant Hill Road. A JNJ employee had previously requested that a lane be closed because JNJ's concrete supplier was on its way. The employee was told he could not close a lane without a permit, which would take days to obtain, so he used construction barrels instead. Here, the construction barrels obstructed the roadway, proximately causing Hall's injury.
JNJ's contract with Horton required JNJ to defend and indemnify Horton for any claims "arising out of" its work. Under Georgia law, the indemnity provision did not require a legal finding that JNJ directly caused Hall's injury, but rather that there was some causal connection between the two. Here, Hall alleged Horton and JNJ created a hazard by failing to post signs warning of the lane closure. His claim for negligence was connected to the contractor's job pouring sidewalks and thus "arose out of" JNJ's work. As such, JNJ was liable to Horton for failing to post warning signs adequately marking the lane closure.
If you were rear-ended or otherwise injured because of inadequate road signs, you may be entitled to compensation. Developers and contractors have a duty to warn drivers of dangerous conditions, especially around construction sites. Owners and occupiers of land have a duty to properly close off lanes, especially where they create the hazard by parking trucks and leaving equipment on the roadway. Stokes & Kopitsky has recovered over $100 million in verdicts and settlements for victims who have been injured as a result of improper road or warning signs. Speak to an experienced Atlanta construction site accident attorney by calling (800) 700-5050 or contacting us online.
Web Resources:
JNJ Foundation Specialists Inc. v. Horton Inc., Georgia Court of Appeals
Other Blog Posts:
Georgia Missionary in Coma after Truck Hits His Moped-OCGA §40-6-56's "Three Feet Rule," The Atlanta Personal Injury Attorneys Blog
Georgia Auto Accident Victim Must File Ante-Litem Notice Warning City of Lawsuit Against Officer Who Hit Her With Police Cruiser-DeLoach v. Elliott, The Atlanta Personal Injury Attorneys Blog
Georgia's Two-Year Statute of Limitations Bars Nephew's Wrongful Death Action Where Damages Are Not Paid to Decedent's Estate-Metropolitan Atlanta Rapid Transit Authority v. Maloof
Categories: