Georgia Missionary In Coma After Truck Hits His Moped-OCGA §40-6-56's "Three Feet Rule"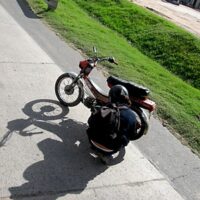 Phillip Tweety, 74, and his wife, Janie were riding along Deans Bridge Road on October 8, 2011 when a truck driven by James Adams hit Tweety's moped. Janie, who was riding along the lane shoulder, was not injured. Tweety, however, was transported to Medical College of Georgia Hospital with massive head injuries. He remains in critical condition. Tweety, a beloved figure in the area, rode around on his first vehicle of choice–a bicycle–for decades, distributing money to the needy. He and his wife, Seventh-Day Adventists, are known for their charity work around Georgia. They were returning home Saturday after completing their missionary work when a truck collided with Tweety's moped a quarter mile from Fort Gordon's Gate 5.
The collision occurred at around 6:15 p.m. when Adams' truck swerved from the left lane and hit Tweety's moped from behind. Tweety remains in a coma and is expected to be moved to rehab soon. An outpouring of support has flooded his room in the hospital as visitors bring donations and food while staying to pray with his wife. The Tweetys have always given 10 percent of their income to the needy, directly approaching Walmart shoppers in Augusta who seemed to need help. Other drivers are used to seeing Tweety shuttle between his errands on an old bicycle. People were happy to see him speed along after "trading up" to a moped. Now, well-wishers are praying for his speedy recovery.
Effective July 1, 2011, Georgia law requires a 3-foot safe passing distance for cars passing bicycles. Specifically, motorists must stay 3 feet away from cyclists while passing pursuant to Official Code of Georgia Annotated (OCGA) §40-6-56. Like bicycles, mopeds are treated as "vehicles" under Georgia law and must follow the same rules for vehicular traffic. The Tweety accident underscores the specific dangers confronting cyclists who are more exposed and less visible to their motor vehicle counterparts. One witness could not believe the Tweetys could ride tiny mopeds wearing street clothing, helmets, and minimal protection. Other drivers complain of moped riders slowly side by side, blocking traffic. They contend cyclists take up the roadway, blocking traffic, forcing trucks, cars, motorcycles, and school buses to swerve around them. Indeed, Georgia law prohibits cyclists from riding "more than two bikes abreast" and requires them to ride "as far to the right side of the roadway" as possible, "with the flow of traffic." Here, the Tweetys were riding side by side, with Janie on the right, closest to the shoulder. Perhaps because of poor visibility, Adams tried to swerve away from the couple but hit Tweety's moped from the back. The accident is still under investigation with charges pending against both drivers.
If you were involved in an accident involving a motorcycle, truck, or car, you may be entitled to compensation for your injuries. Stokes & Kopitsky has over 30 years of experience assisting victims of road accidents and their families. We bring our tough negotiation skills to bear upon the negligent party while providing compassionate representation to our clients. We are here to help. For a free consultation, call an experienced Atlanta auto accident attorney or fill out our online Contact Us form.
Web Resources:
Georgia Bicycle Laws: Recent changes to Georgia Law-OCGA §40-6-56, Georgia Bikes!
Missionary injured in moped accident remains in coma, The Augusta Chronicle
Man injured in moped crash on Deans Bridge Road, The Augusta Chronicle
More Blog Posts:
Georgia's Two Year Statute of Limitation Bars Nephew's Wrongful Death Action Where Damages Are Not Paid to Decedent's Estate-Metropolitan Atlanta Rapid Transit Authority v. Maloof, The Atlanta Personal Injury Attorneys Blog
Georgia Auto Accident Victim Must File Ante-Litem Notice Warning City of Lawsuit Against Officer Who Hit Her With Police Cruiser-DeLoach v. Elliott, The Atlanta Personal Injury Attorneys Blog
Categories: