Pregnant Woman Injured in Morrow Rollover Accident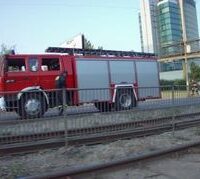 A recent rollover accident on Interstate 75 in Morrow left a pregnant woman hospitalized. According to accident witnesses, Taneka Grace was driving a Toyota on the interstate near the Jonesboro exit when the automobile unexpectedly flipped and became airborne. The Toyota allegedly flew over another vehicle that was traveling on Interstate 75 before coming to rest upside down on a set of railroad tracks. Morrow Police Department Captain James Callaway stated Grace's vehicle began leaking gasoline immediately following the crash.
Rescue crews reportedly found Grace unconscious and still wearing her seat belt inside of the Toyota. Callaway stated the pregnant woman was incoherent once she regained consciousness. Emergency responders purportedly transported Grace to the Atlanta Medical Center's Trauma Unit in serious condition. The driver of the other vehicle, Melissa Stenson, and her passenger, Randolph Vaughn, were allegedly taken to Grady Memorial Hospital where they were treated and released.
Callaway stated the exact cause of the crash is currently under investigation. He also said the accident will likely be recreated in order to determine Grace's speed when she exited the freeway. Callaway called the accident one of the strangest he has ever seen.
According to the Georgia Department of Transportation, more than six million people were involved in a car or truck crash on a Georgia roadway between 2000 and 2006. About one million of those individuals sustained some type of injury and more than 11,000 people were killed. In addition, a driver or passenger was hurt or killed in about half of all rollover accidents and speed played a factor in one-sixth of all deadly accidents that occurred throughout our state during the same time period. The Georgia Governor's Office of Highway Safety reports that about 62 percent of those killed in a Georgia automobile crash failed to wear a safety belt.
Unfortunately, automobile accidents are bound to happen and each year vehicle collisions are one of the most common causes of personal injury and wrongful death in Georgia. Car accidents can result from any number of factors including driver negligence, motor vehicle defects, and poorly designed or otherwise hazardous roadway conditions. If you or a close family member was injured by a careless driver, you may be entitled to receive monetary compensation for your medical costs, suffering and pain, any resulting temporary or permanent disability, and other damages. If you were hurt in a Georgia collision that was caused by another motorist, you should contact a qualified personal injury lawyer as soon as you are able.
Call Stokes & Kopitsky, P.A. toll free at (800) 700-5050 today if you were injured or a loved one was killed in a rollover accident. Our skilled Morrow car accident attorneys have more than 30 years of experience helping individuals whose lives were changed by an unexpected automobile collision. At Stokes & Kopitsky, our dedicated lawyers are available to help you recover the damages you deserve based upon the severity of your injuries. Our knowledgeable attorneys are here to explain your rights and help you file your personal injury case. To schedule a free confidential case evaluation with a hardworking attorney, please feel free to contact lawyers Greg Stokes and Neil Kopitsky through our website.
More Blogs:
Dallas, Georgia Bicyclist Killed by Charter Bus Near Emerson in Bartow County, The Atlanta Personal Injury Attorney's Blog, December 3, 2012
Traffic Fatalities Reportedly on the Rise in Georgia, The Atlanta Personal Injury Attorney's Blog, November 26, 2012
Additional Resources:
Pregnant Georgia Woman Rescued From Mangled Car, abcnews.go.com
Good samaritan saves pregnant woman in car accident, by Holly Pennebaker and Rebecca Lindstrom, 11alive.com
Photo credit: felixo, Stock.xchng
Categories: