Pedestrian Killed by Semi While Crossing Highway in Conyers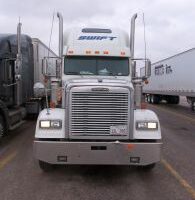 A 67-year-old Conyers man was recently killed in a Rockdale County pedestrian accident that involved a tractor-trailer. Melvin Duerson was reportedly walking his bicycle across Georgia Highway 138 near South Main Street in Conyers when he was hit by a semi-truck that was headed north. Immediately following the collision, emergency responders allegedly transported Duerson to Rockdale Medical Center where he later died as a result of the injuries he sustained in the crash. The exact cause of the fatal accident is currently under investigation by the Rockdale County Sheriff's Office Special Operations Unit. According to Sheriff's Office Investigator Michael Camp, it is unlikely the unnamed driver of the truck will face criminal charges in connection with Duerson's death.
It is a sad fact that pedestrians throughout Georgia are placed at risk of being hurt in a collision with a motor vehicle each time they leave their home. Georgia reportedly ranks ninth in the number of per capita deadly pedestrian crashes nationwide. National Highway Traffic Safety Administration data found that almost two pedestrians per 100,000 people died in Georgia in 2010. During the same year, the national average for pedestrian accident deaths was only 1.38 per 100,000 people.
In 2010, more than half a million tractor-trailer or other commercial vehicle accidents occurred throughout the nation. In addition, more than 100,000 individuals were injured and about 5,000 people were killed in a crash that involved a big rig during the same time period. Unfortunately, any accident involving a tractor-trailer can be devastating or fatal due to the size and weight of the truck. The victim in a crash with a semi-truck or other vehicle may be entitled to receive financial compensation for their medical costs, lost benefits and wages, any disability that resulted from the collision, pain and suffering, and other damages. The close family members of someone who was killed in an accident with a semi-truck may also be eligible to recover funeral expenses and other damages by filing a wrongful death claim. If you were injured or tragically lost a loved one in a crash with a tractor-trailer in Georgia, you should discuss your case with an experienced personal injury attorney as soon as you are able.
If you were seriously hurt or a relative was killed in an accident with a tractor-trailer, you should call Stokes & Kopitsky, P.A. toll free at (800) 700-5050 today. Our capable Rockdale County pedestrian accident attorneys have more than 30 years of experience helping individuals whose lives were disrupted by an unexpected collision with a motor vehicle. At Stokes & Kopitsky, our hardworking lawyers are ready and willing to help you recover the damages you deserve based upon the severity of your injuries. Our knowledgeable lawyers are available to explain your rights and help you file your personal injury or wrongful death case. To schedule a free confidential case evaluation with an experienced attorney, please do not hesitate to contact lawyers Greg Stokes and Neil Kopitsky through our website. More Blogs:
Pregnant Woman Injured in Morrow Rollover Accident, The Atlanta Personal Injury Attorney's Blog, December 10, 2012
Dallas, Georgia Bicyclist Killed by Charter Bus Near Emerson in Bartow County, The Atlanta Personal Injury Attorney's Blog, December 3, 2012
Additional Resources:
Victim identified in tractor trailer accident, Staff Report, Rockdale Citizen
Photo credit: jpsdg, Stock.xchng
Categories: