Atlanta Rollover Accident Attorney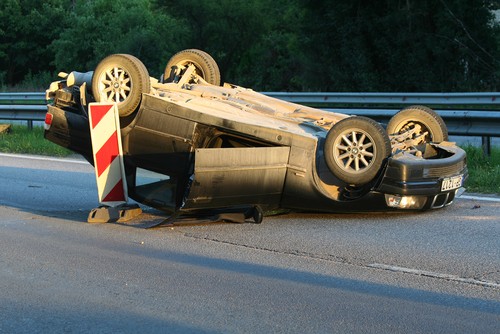 At Stokes & Kopitsky, P.A., we have a thirty-year legacy as one of the top auto accident and personal injury attorneys in the Atlanta area. We have spent many years helping rollover accident victims in Georgia who have suffered injuries in these types of incidents. In total, we have recovered millions of dollars for our clients, and we are ready to help you.
What is a Rollover Accident?
A rollover accident is when a vehicle flips or rolls over, usually due to the driver losing control, whether it's due to obstructions in the road, slick roadways, reckless driving, or any situation that causes loss of handling and traction. When a car spins out of control, it may easily cause a rollover to occur.
Rollovers and Fatalities
According to the National Highway and Traffic Safety Administration (NHTSA), "A rollover crash is far more likely to result in fatalities than are non-rollover crashes."
Rollover accidents account for one-third of all occupant fatalities. In a year, 6,839 people died in rollover accidents. Also, utility vehicles or SUV's had the highest rollover rate in fatal crashes (28.0 percent).
Atlanta Rollover Accident Lawyer
If you are involved in a rollover collision, you could be entitled to compensation for the damages you suffer. It's important to secure the services of a qualified Atlanta rollover accident lawyer. They can help you determine whether the issue is related to the driver's negligence, or possibly a product liability case against the auto manufacturer.
The attorneys at Stokes & Kopitsky, P.A. have decades of experience and millions of dollars in successful case resolutions behind us in resolving these sorts of cases. We know how to gather evidence, combat insurance adjuster nonpayment tactics, and ensure that you get the full range of damages you deserve. For more information and a free consultation about your case, call us at 404-892-0011 or use our easy online contact form to get in touch today.
Related Topics