Atlanta Single Car Accident Attorney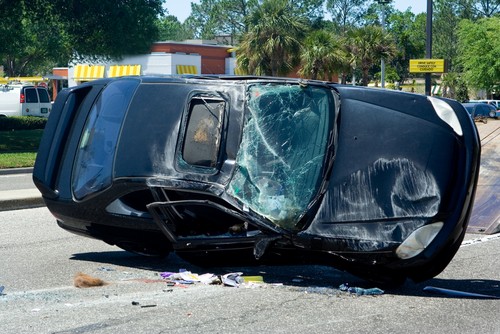 The respected Atlanta single-car accident lawyers at Stokes & Kopitsky, P.A. have helped victims and their families recover compensation for their loss or injury as a result of a single car accident.
Automobile accidents may take the form of single or multiple-car collisions. When only one vehicle is damaged, it is known as a single-car accident. Single car accidents can occur in a variety of ways. You may have missed your exit and hit one of the water-filled cans lining the highways. Maybe a government contractor misplaced a freeway detour sign so that the arrow points straight into a ditch. You are teaching your daughter to parallel-park when she accidentally rams into a fire hydrant. Giant pieces of hail descend upon your windshield out of nowhere, damaging the car. The possibilities are endless.
In Georgia, single car accidents caused by anything from forces of nature to driving under the influence are governed by rules set forth in the Official Code of Georgia Annotated (OCGA). OCGA § 40-6-391, for instance, provides five different ways in which someone can be convicted of a DUI. Subsection (a) provides the driver "need not be seen behind the wheel while under the influence if driving can be inferred by circumstantial evidence." An at-fault motorist who hits an occupied, parked car while driving under the influence could thus be held liable for any resulting injury or loss the victim or her family members experience as a result of the accident, even if nobody saw the driver behind the wheel of his car.
Whether there is a viable claim for injury or wrongful death in Georgia depends upon the motorist's negligence in breaching his duty to safely operate a vehicle. Other people could also be at fault for causing a dangerous roadblock or failing to maintain a safe highway. Government contractors could likewise "contribute" to the negligence by neglecting to fill hazardous potholes that ruin your car and throw you from your seat. Whatever the cause of your single-car accident, you may have a legal claim for injuries if they were "proximately caused" by another's negligence. In order to determine who was at fault, it is important to ask not only who was driving, but who owned, operated, or loaned the car to another driver. An experienced Atlanta single-car accident attorney can help you evaluate whether you have additional claims against negligent car repair shops, manufacturers, or third parties.
Atlanta car accident attorneys Greg Stokes and Neil Kopitsky have over thirty years of experience helping victims of single car accidents and their families. We can help you evaluate who was at fault, the assets or insurance coverage of the at-fault motorist, and how the extent of your injuries, medical expenses, and lost wages will contribute to your legal recovery.
If you or a loved one has been injured in a single car accident, it is important to contact an attorney immediately to preserve your rights and avoid any statute of limitation from barring your claim. For a free and confidential consultation, call Stokes & Kopitsky, P.A. at 404-892-0011 or fill out our online Contact Us form.
Related Topics