Motorcyclist Seriously Hurt Following Two-Vehicle Collision in Hall County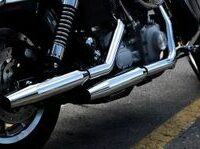 A 47-year-old motorcyclist reportedly sustained serious injuries after he was involved in a daytime traffic wreck in Hall County. The Gainesville man was allegedly riding a Harley Davidson north on McEver Road near Gould Drive when he unexpectedly struck a curb and lost control of his bike. According to a representative for the Georgia State Patrol, the motorcyclist crossed the median and hit a southbound passenger vehicle. Following the crash, the motorcycle rider was purportedly taken by emergency medical helicopter to Grady Memorial Hospital in Atlanta.
The exact cause of the injury accident is under investigation by the Georgia State Patrol. According to authorities, charges are currently pending in connection with the motorcycle wreck. At this time, it is unknown whether the 42-year-old driver of the automobile suffered any harm in the collision.
Unfortunately, the injuries sustained in a Georgia motorcycle crash like this one are often serious or life-threatening. Motorcyclists who are hurt by a negligent motorist may be eligible to receive damages for their medical expenses, pain and suffering, lost wages and benefits, any resulting temporary or permanent disability, and more. In addition, the loved ones of someone who was killed in a fatal motorcycle collision may be compensated for lost income, funeral expenses, final medical bills, and their personal loss.
Although motorcycle accidents may result in a number of devastating injuries, such crashes cause more than 40 percent of spinal cord injuries sustained in Georgia and elsewhere every year. Spinal cord injuries normally result in damage to the vertebrae, discs, or ligaments in a victim's back. Additionally, spinal cord damage may cause partial or complete paralysis. In 1999, the Georgia Brain and Spinal Injury Trust Fund was created to offset the high costs of medical and other necessary services for those suffering from a spinal cord injury. On average, the lifetime costs associated with trauma to the spine often reach more than $1 million. To make matters worse, only about 37 percent of spinal cord trauma victims are employed eight years after their accident. If you or a close relative sustained a spinal cord or other injury in a preventable motorcycle crash, you should contact a quality Georgia personal injury lawyer as soon as possible.
Do not hesitate to call the hardworking attorneys at Stokes & Kopitsky, P.A. toll free at (800) 700-5050 if you were injured or a family member was killed in a motorcycle accident. Our skilled Hall County motorcycle collision lawyers have more than 30 years of experience assisting accident victims throughout the State of Georgia. At Stokes & Kopitsky, P.A., our experienced traffic accident attorneys are ready and willing to help you file your personal injury or wrongful death case. To schedule a free confidential case evaluation with a committed advocate, please contact attorneys Greg Stokes and Neil Kopitsky through our website.
More Blogs:
One Killed in Negligent Three-Vehicle Crash Involving an 18-Wheeler in Cobb County, The Atlanta Personal Injury Attorney's Blog, March 4, 2013
21-Year-Old Crushed to Death in Workplace Accident at Cherokee County Marina, The Atlanta Personal Injury Attorney's Blog, February 25, 2013
Additional Resources:
Gainesville man flown to hospital following motorcycle wreck, by Derreck Booth, accessnorthga.com
Gainesville man taken to Grady after Sunday wreck, by Jeff Gill, Gainesville Times
Photo credit: pentond, Stock.xchng
Categories: