21-Year-Old Crushed to Death in Workplace Accident at Cherokee County Marina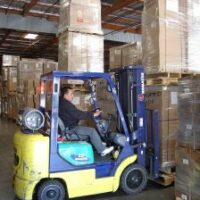 In January, a 21-year-old Woodstock man was tragically killed in a forklift accident at the Little River Marina on Bells Ferry Road near Allatoona Lake in Canton. According to a statement issued by the Cherokee County Fire and Emergency Services, the man was performing repair work on the machine when it unexpectedly crushed him. Sadly, the Little River Marina employee was pronounced dead at the scene of the workplace accident.
The forklift involved in the incident is purportedly used to remove individual boats from a local storage facility. It is allegedly unclear why the worker was using the machine when he was killed. The exact cause of the deadly accident is currently being investigated by the Cherokee Sheriff's Office and the nation's Occupational Safety and Health Administration (OSHA). Lieutenant Jay Baker said foul play was not a suspected cause of the fatal incident.
Most serious or deadly workplace accidents in Georgia and nationwide are investigated by OSHA. The agency was established to reduce and prevent worker injuries and death across the country. The Occupational Safety and Health Act of 1970 requires that industrial and other employers in the United States provide all employees with a workplace that is reasonably free from preventable safety hazards. Under the Act, employers must adhere to specific safety requirements such as providing employees with safety training, safety test results, and information about potential job hazards.
Regrettably, many workers across the nation face dangerous working conditions on a daily basis. Unfortunate workplace accidents kill and injure employees throughout our state every year. Individuals who are hurt at work are normally protected by workers' compensation laws that provide certain statutory rights such as medical and income benefits. Still, a third party who somehow contributed to an injury accident may also be held liable for an employee's harm or death. For example, the manufacturer of a piece of machinery such as a forklift may be held responsible for producing a defective or dangerous product. If you were hurt or a loved one was killed at work, you should discuss your situation with a skilled work injury attorney as soon as you are able.
If you were injured or a family member was killed in a workplace accident, call the committed lawyers at Stokes & Kopitsky, P.A. toll free at (800) 700-5050. Our knowledgeable Cherokee County work injury attorneys have more than 30 years of experience helping accident victims throughout the State of Georgia receive the compensation they deserve based upon the severity of their injuries. At Stokes & Kopitsky, P.A., our hardworking work injury lawyers are ready and willing to help you file your personal injury case. To schedule a free confidential case evaluation with a capable advocate, please contact attorneys Greg Stokes and Neil Kopitsky through our website.
More Blogs:
Gwinnett County School Resource Officer Critically Injured by Driver Who Allegedly Failed to Obey His Traffic Signal in Sugar Hill, The Atlanta Personal Injury Attorney's Blog, February 18, 2013
Alleged Drunken Driver Causes More Than One Dozen Hit-and-Run Crashes in DeKalb and Gwinnett Counties, The Atlanta Personal Injury Attorney's Blog, February 11, 2013
Additional Resources:
UPDATE: Worker Killed at Little River Marina Identified, by Justin Ove, Canton-Sixes Patch
OSHA officials investigating fatal accident at Cherokee County marina, by Elizabeth Klynstra, cbsatlanta.com
Photo credit: creactions, Stock.xchng