Gwinnett County School Resource Officer Critically Injured by Driver Who Allegedly Failed to Obey His Traffic Signal in Sugar Hill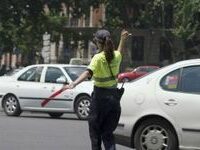 A 48-year-old Gwinnett County Public Schools Police Resource Officer was recently hospitalized in critical condition after he was struck by a motor vehicle while directing traffic outside of Lanier High School in Sugar Hill. The 11-year veteran was reportedly hit by a southbound Jeep Grand Cherokee driven by a 22-year-old Buford woman on Buford Highway. According to authorities, the officer signaled for southbound traffic to stop prior to being struck by the Jeep. Corporal Edwin Ritter said the officer was hit after he turned his attention to northbound traffic that was attempting to turn left onto school property. Ritter stated the driver ignored the officer's signal and instead hit him. The officer reportedly became airborne and landed in a left turn lane. After the initial impact, the motorist allegedly struck a northbound Ford Focus that was in the process of turning and pushed it onto the officer.
Following the crash, the school resource officer was purportedly transported to Gwinnett Medical Center in critical condition. Ritter said he has since been upgraded to serious condition. The 17-year-old driver of the Ford was allegedly uninjured in the traffic wreck.
The exact cause of the injury accident is currently under investigation. Authorities stated the school resource officer was wearing a reflective vest and using a traffic wand when the incident occurred. In addition, the man's patrol car was also reportedly parked nearby with the lights flashing. According to Ritter, the 22-year-old driver was not impaired or distracted by a mobile device at the time of the traffic incident. At a minimum, the driver is expected to be charged with failure to obey an officer's traffic signals. Ritter said she may face additional charges in connection with the crash.
Sadly, the majority of personal injury claims filed in the State of Georgia each year stem from preventable traffic accidents. Although car crashes may result from any number of causes, inattentive, distracted or reckless driving are common factors. Unfortunately, any traffic collision can result in serious injuries and death. The victim in a motor vehicle crash may be entitled to recover financial compensation for their medical expenses, suffering and pain, any resulting temporary or permanent disability, and other damages. If you or someone you love was hurt in an auto accident that was caused by another motorist's negligent actions, you should contact a skilled personal injury attorney as soon as you are able.
If you were injured in an unexpected Georgia traffic crash, please call the experienced attorneys at Stokes & Kopitsky, P.A. toll free at (800) 700-5050. Our hardworking Gwinnett County car accident lawyers have more than 30 years of experience helping crash victims throughout Georgia receive the compensation they deserve based upon the severity of their injuries. At Stokes & Kopitsky, P.A., our diligent auto collision attorneys are ready and willing to help you file your personal injury case. To schedule a free confidential case evaluation with a dedicated advocate, do not hesitate to contact lawyers Greg Stokes and Neil Kopitsky through our website.
More Blogs:
Alleged Drunken Driver Causes More Than One Dozen Hit-and-Run Crashes in DeKalb and Gwinnett Counties, The Atlanta Personal Injury Attorney's Blog, February 11, 2013
Child Dies in Morgan County DUI Crash Near Madison, The Atlanta Personal Injury Attorney's Blog, February 4, 2013Additional Resources:
Resource officer hit while directing traffic at local school, by Tyler Estep, Gwinnett Daily Post
Gwinnett school officer recovering after being hit, by Eve Chen and Jerry Carnes, 11alive.com
Photo credit: richermcm, Stock.xchng
Categories: