One Killed in Negligent Three-Vehicle Crash Involving an 18-Wheeler in Cobb County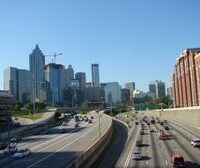 A daytime tractor-trailer collision on Interstate 285 in Cobb County snarled traffic for hours and left one person dead. According to Cobb County Police Spokesperson Sergeant Dana Pierce, a semi, a Lexus sedan, and a Toyota pick-up truck were headed east on the freeway near the Chattahoochee bridge around 4:20 pm when the fatal crash occurred. An accident reconstruction team is currently attempting to piece together exactly what caused the fatal wreck.
Pierce claims the accident occurred after one of the three vehicles made an improper lane change. He also stated it was unclear which vehicle caused the wreck because witnesses provided conflicting reports regarding the circumstances that lead to the deadly collision. According to police, it was clear the sedan collided with both the big rig and the pick-up truck during the wreck. Unfortunately, the force of the impact reportedly caused the pick-up to roll and the vehicle's 29-year-old passenger was pronounced dead at the scene of the wreck. Paramedics transported the 50-year-old driver of the pick-up to Wellstar Kennestone Hospital in Marietta with injuries that were purportedly deemed to be non-life threatening. The 39-year-old trucker and the 37-year-old driver of the Lexus were reportedly uninjured in the accident.
Regrettably, the size and weight of big rigs normally means the injuries sustained in a traffic wreck that involves one can be deadly. Tractor-trailers and other commercial vehicles that travel on the roadways in Georgia and the rest of the nation are regulated by both federal and state laws. Trucking laws provide a framework of liability for semi drivers and the companies that employ them. Because of such regulations, big rig accidents usually involve a number of unique pieces of evidence that are not generally available in other vehicle crashes. For example, driver logs, on-board computers, and any required driver documentation can assist 18-wheeler accident investigators.
The victim in a wreck with a big rig may be eligible to recover financial compensation for their medical expenses, lost wages and benefits, any resulting temporary or permanent disability, suffering and pain, and other damages. In addition, certain family members of someone who died as a result of a tractor-trailer driver's negligence may also be entitled to receive the costs associated with their loved one's funeral and other compensation. If you were hurt or lost a relative in an accident with a tractor-trailer, you should discuss your case with a quality Georgia personal injury attorney.
If you were injured or a family member was killed in an unexpected traffic wreck, please call the experienced lawyers at Stokes & Kopitsky, P.A. toll free at (800) 700-5050. Our dedicated Cobb County tractor-trailer accident attorneys have more than 30 years of experience helping crash victims throughout Georgia receive the compensation they deserve based upon the severity of their injuries. At Stokes & Kopitsky, P.A., our knowledgeable car accident lawyers are ready and willing to help you file your personal injury or wrongful death case. To schedule a free confidential case evaluation with a committed advocate, do not hesitate to contact attorneys Greg Stokes and Neil Kopitsky through our website.
More Blogs:
21-Year-Old Crushed to Death in Workplace Accident at Cherokee County Marina, The Atlanta Personal Injury Attorney's Blog, February 25, 2013
Gwinnett County School Resource Officer Critically Injured by Driver Who Allegedly Failed to Obey His Traffic Signal in Sugar Hill, The Atlanta Personal Injury Attorney's Blog, February 18, 2013
Additional Resources:
I-285 reopened Sunday after fatal crash reconstruction, Atlanta Journal-Constitution
Photo credit: claygast, Stock.xchng