Hall County School Bus Overturns After Driver Loses Consciousness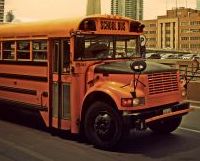 Last month, a Hall County, Georgia school bus headed to East Hall High School left the roadway and flipped onto its side. The accident sent the bus driver and 15 of the 22 students aboard to a local hospital. According to the Georgia State Patrol, the accident occurred after the bus driver, 55-year-old Doug McClure, suffered a medical emergency. The accident occurred about one mile from the school after McClure reportedly lost consciousness.
At the time of the accident, the school bus was traveling very slowly and none of the students suffered life threatening injuries. One student who was suffering from neck pain was taken to the Northeast Georgia Medical Center in Gainesville by ambulance. The rest of the students were taken to the hospital using another bus. All of the teens were released to their parents by the afternoon.
The driver also suffered neck pain as well as contusions to his face and head. McClure has been employed driving school buses in Hall County since 2008. Prior to the accident, he had a spotless driving record.
Americans spend a great deal of time in motor vehicles each year. Unfortunately, so much time spent in automobiles means accidents such as this one are bound to happen. In fact, collisions are one of the leading causes of personal injury claims filed in Georgia each year. Car accidents can be caused by a wide variety of factors such as reckless, inattentive, or impaired drivers. Other causes may include motor vehicle defects, hazardous road conditions, and even medical emergencies. Although most motor vehicle accidents are straightforward fender benders, a collision can also result in a tragic death. Drivers and passengers who are injured through no fault of their own may be entitled to receive monetary damages for suffering, pain, medical bills, disability, and wrongful death. If you or a family member was hurt in a motor vehicle accident, a qualified personal injury lawyer can help.
If you or a loved one was hurt in a car accident, contact Stokes & Kopitsky, P.A. Our skilled Atlanta personal injury attorneys are available to assist clients throughout the State of Georgia. Attorneys Greg Stokes and Neil Kopitsky have more than 20 years of combined experience helping Georgia residents who were injured in motor vehicle collisions receive the compensation they deserve. Our lawyers are highly experienced negotiators and litigators who will always strive to get the best possible results for our clients based on the facts of each case. For a free confidential case evaluation, call Stokes & Kopitsky, P.A. toll free at (800) 700-5050 today. You may also contact us through our website.
More Blogs:
Georgia Court Must Consider Children's Affidavits of Indigence in Appeal from Wrongful Death Claim–Mapp v. We Care Transportation Services, Atlanta Personal Injury Attorney's Blog, February 13, 2012
Georgia Appeals Court Says Cruise Ship Cannot Limit Liability for Passenger's Injury-Johnson v. Royal Caribbean Cruises Ltd., Atlanta Personal Injury Attorney's Blog, December 26, 2011
Additional Resources:
GSP: School bus driver passed out before crash, wsbtv.com
Students, driver OK after bus overturns, by Mitch Clarke and Savannah King, Gainesville Times
Categories: