No Bond for Woman Accused of Killing Atlanta Police Officer While Driving Drunk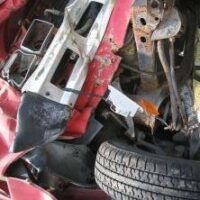 A Fulton County magistrate judge has refused to allow a woman suspected of killing a police officer with her car while intoxicated out of jail on bond. 22-year-old Chasity Nicole Jones of Stone Mountain is being held without bond in the Fulton County Jail on felony first-degree vehicular homicide charges in connection with a January accident on the I-75/I-85 Brookwood Interchange ramp which left 46-year-old Atlanta police officer Gail Thomas dead. Jones was also charged with failure to yield to a person authorized to direct traffic and driving while under the influence of alcohol. Although no bond was authorized on the felony charge, Fulton County Magistrate Judge Jaslovelin Jessy Lall set bail at $15,000 on Jones' other charges.
During the past five years, Jones was cited for traffic violations on six different occasions. The violations included both speeding and making erratic lane changes. Jones was also cited for causing a one-car accident in Gwinnett County in late 2008, and she failed to attend scheduled court appearances on four previous occasions.
The accident in question occurred after Thomas was called to the scene to assist a fellow police officer. She was allegedly struck and killed by Jones as she exited her vehicle which was reportedly parked on the shoulder. Immediately following the accident, police administered a breathalyzer test and Jones blew a .16, twice the legal limit of .08. According to Atlanta police, Jones refused a state administered blood alcohol test. After police obtained a search warrant, a blood alcohol test was later administered at a local hospital. The results of the blood test have not been disclosed. Passengers in Jones' vehicle were not issued citations.
At the bond hearing, Jones did not speak. A relative of the slain officer, Atlanta's second woman to be killed in the line of duty, also attended the hearing. Although Jones was initially scheduled for a preliminary hearing in Fulton Superior Court on February 9th, the hearing was postponed after she was indicted.
Alcohol or other drugs can have a significant effect on a driver's perception, judgment, and reaction time. A drunk or impaired driver is a danger to not only themselves, but also to everyone they happen to encounter on the road. Impaired driving is one of the leading causes of fatal automobile accidents in the nation. You and your family are placed at risk every time someone makes the choice to drive under the influence of drugs or alcohol.
If you were injured in a car accident because of another person's impairment, our knowledgeable Atlanta drunk driving injury lawyers can help. Attorneys Greg Stokes and Neil Kopitsky have more than 30 years of combined experience helping Georgia residents who were injured by drunk or impaired drivers. We are available to assist clients in both Atlanta and throughout the State Georgia. For a free case evaluation, contact Stokes & Kopitsky, P.A. through our website or call us toll free at (800) 700-5050 today.
More Blogs:
Georgia Appeals Court Finds Intentional Punch is Battery, Not Negligence–Duffield v. Chui, The Atlanta Personal Injury Attorney's Blog, February 27, 2012
Georgia Woman Must Provide Eyewitness Testimony Corroborating Accident to Recover Uninsured Motorist Benefits–Bituminous Insurance Co. v. Coker, The Atlanta Personal Injury Attorney's Blog, February 20, 2012
Additional Resources:
DA: Driver who killed cop has history of speeding, by Rebekka Schramm and Mike Paluska, cbsatlanta.com
Vehicular Homicide Suspect Indicted, Stone Mountain-Redan Patch