Georgia Woman Must Provide Eyewitness Testimony Corroborating Accident to Recover Uninsured Motorist Benefits–Bituminous Insurance Co. v. Coker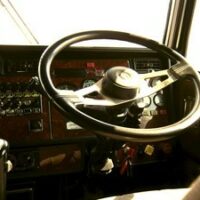 The Georgia Court of Appeals recently ruled that in order to recover uninsured motorist benefits, a widow must provide eyewitness testimony corroborating her version of events. In this case, a Georgia woman had to provide evidence proving her description of how an unknown motorist caused an accident in which her husband was killed. Absent eyewitness testimony, the claimant could not prove the unknown motorist was negligent and the trial court was correct in granting summary judgment to the insurance company.
Carolyn Ann Coker is the surviving spouse of Terry Broom, a tractor-trailer driver. She claimed that her husband was hauling lumber in a Freighthner Truck when he was involved in an accident caused by an unknown motorist. According to Coker, Broom was approaching the intersection of U.S. Highway 41 and Clark Road in Catoosa County when an unknown motorist suddenly stopped in Broom's path. Broom had to hit the brakes. When he applied the brakes, the load of lumber shifted, breaking the straps holding the load in place. The lumber moved forward, crushing the Freighthner's driving cab and killing Broom.
Coker brought suit against Bituminous Insurance Co., the insurance carrier whose policy covered the Freighthner that Broom operated for his employer. She alleged that the unknown driver was negligent and sought to recover benefits under the policy's uninsured motorist provision. Bituminous argued there was no eyewitness testimony corroborating Coker's description of the accident as required under OCGA §33-7-11. The trial court denied the insurance company's motion for summary judgment. Bituminous appealed the decision to the Georgia appellate court.
The purpose of uninsured motorist coverage is to provide indemnification for injuries to a person who is legally entitled to recover damages from an uninsured motorist, thereby protecting innocent victims from the negligence of irresponsible drivers. In order for the insured to recover benefits under the uninsured motorist provision, the claimant's description of how the accident occurred must be corroborated by eyewitness testimony. The eyewitnesses must confirm that the unknown vehicle existed and proximately caused the victim's injury.
Here, four witnesses were deposed to give testimony about the accident. Although three of the four witnesses implied that an unknown vehicle might have been present, each of them described the vehicle in a different location and none corroborated Coker's description of events. Instead, they were consistent in saying "there was nothing in front of Broom" and "no vehicle at the intersection" of Highway 41 and Clark Road as Coker described.
Thus, no witnesses corroborated Coker's claim that an unknown driver negligently stopped in the path of Broom's tractor-trailer, causing the accident. In the absence of evidence supporting this material allegation, there was no "genuine issue of material fact" and Bituminous was entitled to judgment as a matter of law. The trial court judgment is therefore reversed.
If you or someone you know was injured in a tractor-trailer accident, the experienced Atlanta tractor-trailer accident attorneys at Stokes & Kopitsky can help. For over 20 years, we have been helping injured victims and surviving family members recover compensation for injuries caused by someone else's negligence. Whether you are trying to recover uninsured motorist benefits or need help bringing a wrongful death claim, we can help you identify all liable parties and achieve the best possible outcome in your case. Our firm is dedicated to providing the highest quality legal representation to injured victims and surviving family members throughout Atlanta. Call (800) 700-5050 for a free consultation or contact us online.
Web Resources:
Bituminous Insurance Co. v. Coker, Georgia Court of Appeals
More Blog Posts:
Georgia Auto Accident Victim Must File Ante-Litem Notice Warning City of Lawsuit Against Officer Who Hit Her With Police Cruiser-DeLoach v. Elliot, The Atlanta Personal Injury Attorneys Blog
What is Pain and Suffering in Georgia Personal Injury Law?, The Atlanta Personal Injury Attorneys Blog
The Importance of Photographs After You've Been in a Car Crash, The Atlanta Personal Injury Attorneys Blog