Gwinnett County Teen Critically Injured by Impaired Driver While Waiting for School Bus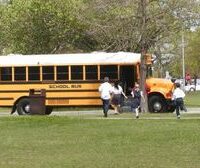 A Lawrenceville man was recently arrested after he allegedly drove onto a sidewalk and struck a teenager who was waiting for a school bus. 20-year-old Misael Pena-Larios was charged with driving under the influence of marijuana after he reportedly lost control of the motor vehicle he was driving and hit 15-year-old Dominique O'Connor at the intersection of Lendl Lane and Champion Parkway in Lawrenceville. According to Cpl. Ed Ritter of the Gwinnett County Police Department, the Berkmar High School student was pinned beneath Pena-Larios' vehicle. Following the crash, emergency responders had to lift the vehicle off of O'Connor before transporting the teen to the Gwinnett Medical Center where she remains hospitalized. O'Connor reportedly suffered multiple injuries in the accident including a broken pelvis and cuts to her face.
Pena-Larios allegedly admitted to smoking marijuana prior to the tragic crash. Additionally, at least one police officer reportedly stated the man "displayed physical signs" of drug use. Although Pena-Larios was initially jailed at the Gwinnett County Detention Center, he was later released on bond. A hearing in the case is scheduled for October 10th.
Although the victim in this case was critically injured, this accident could easily have ended in a tragic death. Sadly, pedestrians in Georgia are placed at risk of harm or death each day. Pedestrian accidents can affect children who are walking to school, joggers, parents who are pushing their children in strollers, tourists, commuters, and others. A pedestrian accident is often caused by an impaired, inattentive, or negligent driver. Unfortunately, when a pedestrian is involved in a collision with a motor vehicle, the result is often catastrophic. If you were involved in an accident with an automobile, you may be entitled to receive compensation for your medical costs, pain and suffering, any resulting disability, physical therapy, lost wages, and other damages. If you lost a loved one in a pedestrian accident, you may also be eligible to file a wrongful death claim. You should contact a skilled personal injury attorney after any injury accident to discuss your case.
If you were harmed in a pedestrian accident, contact Stokes & Kopitsky, P.A. today. Our dedicated and hardworking Atlanta personal injury lawyers have more than 20 years of combined experience representing the victims of unexpected injury accidents throughout the State of Georgia. At Stokes & Kopitsky, our capable attorneys endeavor to achieve the best possible results for every client based on the facts of each individual case. For a free confidential evaluation of your personal injury case, please call Greg Stokes and Neil Kopitsky toll free at (800) 700-5050 or contact Stokes & Kopitsky through our website.
More Blogs:
Motorcyclist Critically Hurt in Cherokee County Accident, The Atlanta Personal Injury Attorney's Blog, September 17, 2012
Spate of August Wrong-Way Crashes in Metro-Atlanta Kill Five People, The Atlanta Personal Injury Attorney's Blog, September 3, 2012
Additional Resources:
Man charged in crash that hurt Gwinnett teen waiting for bus, by Angel K. Brooks, Atlanta Journal-Constitution
Pot may have been factor in crash that hurt teen, wsbtv.com
Photo credit: Bubbels, Stock.xchng
Categories: