Danielsville Man Hurt in Log Truck Rollover Accident on Highway 98 in Commerce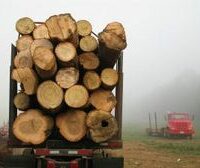 Late last month, a 24-year-old Danielsville man was severely injured when the log truck he was driving rolled on Georgia Highway 98 in Commerce. According to a representative from the Georgia State Patrol, Steven Brock was headed west on the highway in a 1988 Kentworth semi-truck when he came upon a passenger vehicle that was stopped to turn left onto Neese-Commerce Road. Brock allegedly rolled the truck when he attempted to avoid striking the passenger vehicle from behind. Following the accident, emergency rescue crews reportedly transported Brock via emergency helicopter to Grady Memorial Hospital in serious condition.
Although the exact cause of the crash is still under investigation, an officer with the Georgia State Patrol said the semi-truck did not appear to be properly maintained. He found that the log truck had unacceptable tire tread and braking mechanisms. Additionally, the semi-truck was being operated despite that its registration was expired. Brock was reportedly issued a citation for operating an unsafe vehicle, driving a vehicle with an expired registration, and failing to maintain his lane. Following the accident, the officer also allegedly contacted the Department of Public Safety's Motor Carrier Compliance Division to investigate the matter further.
Fortunately, no one was killed due to the alleged negligence of the tractor-trailer driver in this case. Still, the size and weight of such vehicles often cause devastating and fatal accidents. In 2010, more than 500,000 crashes involving a semi-truck or other commercial vehicle occurred throughout the United States. Additionally, more than 100,000 people were hurt and about 5,000 people were killed in collisions that involved a big rig in 2010. Sadly, the number of tractor-trailer crashes throughout the nation are reportedly on the rise.
Both federal and Georgia laws regulate the trucking industry. Such laws provide a framework of liability for commercial motor carriers and those employed by them. Individuals who were hurt in an accident with a semi-truck or other commercial vehicle may be eligible to receive financial compensation for their medical bills, lost wages, any resulting disability, pain and suffering, and other damages. If you were injured in an accident with a truck or tractor-trailer, you should contact a skilled Georgia personal injury lawyer to discuss your options for recovery.
At Stokes & Kopitsky, P.A., our dedicated truck accident attorneys have more than 30 years of experience helping the victims of truck or tractor-trailer accidents in and outside Georgia recover the compensation they deserve. At Stokes & Kopitsky, our hardworking lawyers are available to explain the various claims you might have against liable motor carriers and their negligent employees. For a free confidential evaluation of your personal injury case, please do not hesitate to call Greg Stokes and Neil Kopitsky toll free at (800) 700-5050 or contact us through our website. More Blogs:
Gwinnett County Teen Critically Injured by Impaired Driver While Waiting for School Bus, The Atlanta Personal Injury Attorney's Blog, October 8, 2012
Pedestrian Fatalities on the Rise in Georgia, The Atlanta Personal Injury Attorney's Blog, October 1, 2012
Additional Resources:
Man seriously injured in log truck accident, by Staff Writer, Madison Journal Today
Photo credit: cemcneal21, Stock.xchng
Categories: