Pedestrian Fatalities on the Rise in Georgia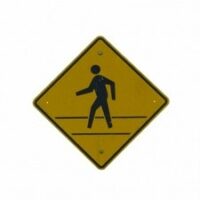 According to the Georgia Department of Transportation (GDOT), 82 pedestrians were killed by motorists on Georgia roadways during the first eight months of 2012. That number has increased by 19 over the same time last year. GDOT stated the 2012 accident rate is on pace to surpass the 124 pedestrian fatalities that occurred in Georgia in 2011. Meg Pirkle, Director of Operations at GDOT, said the increase is alarming.
On average, 149 pedestrians were killed by motorists during each of the last six years in the State of Georgia. At the same time, the overall rate of fatal accidents on Georgia roadways reportedly decreased by 27 percent. This means the number of accidents in which pedestrians were killed now makes up a larger percentage of statewide traffic fatalities. Additionally, the State of Georgia ranks ninth in the number of per capita fatal pedestrian accidents. According to the National Highway Traffic Safety Administration, an average of 1.73 pedestrians per 100,000 people died in the state in 2010. In contrast, the national average for pedestrian accident deaths was 1.38 per 100,000 people.
Although more Americans are walking for a variety of reasons throughout the nation, providing a safe route for both cars and those individuals traveling on foot in Georgia has reportedly become a challenge. In congested cities like Atlanta, pedestrian safety can often be tough to come by. Some residents have expressed concern over the lack of pedestrian crosswalks and the length and timing of traffic lights. According to David Goldberg of the advocacy group Transportation for America, not enough has been done in the area to ensure pedestrian safety.
GDOT is reportedly in the process of drafting a pedestrian safety action plan for use throughout the state. Additionally, state funds are expected to be used to install high-intensity activated crosswalk and audible pedestrian traffic signals at a number of busy intersections. In both Cobb and Gwinnett Counties, recent community sales tax increases are now being used to install and repair sidewalks and pedestrian crossing signals. Additionally, Sandy Springs has reportedly installed more than seven miles of new sidewalks in the last year in an effort to make the city more pedestrian friendly. Still, a sales tax increase for sidewalks and other projects in Atlanta was recently rejected by area voters.
The Atlanta Commissioner of Public Works, Richard Mendoza, stated the city plans to spend about $800,000 on sidewalk repairs in the near future. Atlanta is also allegedly competing for Regional Commission funds that may be used to increase pedestrian safety. In June, law enforcement officers in Atlanta focused on ticketing motorists who failed to stop for pedestrians using crosswalks. More than 12 drivers were reportedly issued citations.
Unfortunately, pedestrians throughout Georgia are placed at risk of being injured in an accident with a car, truck, or motorcycle every day. Pedestrian accidents are often caused by speeding, driver inattention, road conditions, and other factors. Too often, the victim in a pedestrian accident will sustain catastrophic or fatal injuries. If you were hurt in an accident with a motor vehicle, you may be eligible to receive financial compensation for your pain, suffering, medical expenses, lost wages, and other damages. A capable Georgia personal injury lawyer can help you file your case.
Call Stokes & Kopitsky, P.A. toll free at (800) 700-5050 if you were hurt in a pedestrian accident. Our hardworking Gwinnett County personal injury attorneys have more than 20 years of combined experience helping the victims of unexpected injury accidents in the State of Georgia receive fair compensation. At Stokes & Kopitsky, our capable attorneys work hard to achieve the best possible results based on the facts of each case. Greg Stokes and Neil Kopitsky are available to represent injured clients throughout Georgia. For a free confidential evaluation of your personal injury case, please do not hesitate to contact Stokes & Kopitsky through our website today.
More Blogs:
Single Vehicle Crash Kills Fayetteville Woman, The Atlanta Personal Injury Attorney's Blog, September 24, 2012
Motorcyclist Critically Hurt in Cherokee County Accident, The Atlanta Personal Injury Attorney's Blog, September 17, 2012
Additional Resources:
Rise in pedestrian fatalities in Georgia puts spotlight on safety, by Jeremiah McWilliams and Andria Simmons, Atlanta Journal-Constitution
Photo credit: JosephHart, Stock.xchng
Categories: