Motorcyclist Critically Hurt in Cherokee County Accident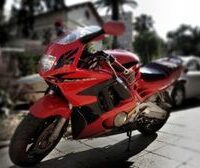 Last week, a motorcycle driver was critically injured on Georgia State Route 140 in Cherokee County. The accident reportedly occurred after 22-year-old Stephanie Marie Christ of Canton pulled onto the roadway directly in the path of a Chevrolet S-10 pick-up truck that was heading east. According to Georgia State Patrol spokesperson Gordy Wright, the driver of the pick-up, 62-year-old Larry Richard Mason of Waleska, Mississippi, left the roadway after hitting the motorcyclist. His truck reportedly wound up in a nearby ditch with Christ trapped beneath it.
Rescue crews were allegedly called upon to pull Christ from the accident wreckage. The woman was transported by emergency helicopter to Grady Memorial Hospital in Atlanta. Cherokee Fire Department spokesperson Tim Cavender stated Mason was not seriously hurt in the crash. At this time, no charges have been filed against either driver. The Georgia State Patrol is currently investigating the exact cause of the collision.
The injuries that victims of Georgia motorcycle accidents sustain are often severe and life-changing. Motorcyclists who are hurt due to another driver's negligence may be entitled to compensation for pain, suffering, medical costs, and temporary or permanent disability. The loved ones of someone killed in a motorcycle crash may also be compensated for lost income, final medical bills, funeral expenses, and other damages. A knowledgeable Georgia motorcycle accident attorney can help you.
Although it is unclear exactly what injuries Ms. Christ sustained, motorcycle and other vehicle crashes cause more than 40 percent of spinal cord injuries in both Georgia and throughout the U.S. each year. Spinal cord injuries frequently result in vertebral damage, broken discs, or injured ligaments in a person's back. Unfortunately, a spinal cord trauma can cause partial or complete paralysis.
The Georgia Brain and Spinal Injury Trust Fund was created in 1999 to assist the victims of spinal cord injuries with the high costs of medical and other necessary services. On average, initial hospitalization costs after an individual's spine is traumatized in a crash or other accident are about $140,000. Additionally, expenses for ongoing lifetime services often reach over $1 million. To make matters worse, only about 37 percent of spinal cord injury victims are employed eight years after their trauma. If you were hurt or a family member was killed in a Georgia motorcycle collision, it is a good idea to contact a skilled personal injury lawyer as soon as you are able.
If you were injured while riding your motorcycle, do not hesitate to contact the law firm of Stokes & Kopitsky today. Our dedicated Cherokee County personal injury attorneys have more than 20 years of experience helping injured clients receive the financial compensation they deserve after an unexpected injury. At Stokes & Kopitsky, our experienced lawyers represent clients throughout Georgia. To schedule a free confidential case evaluation, please call hardworking attorneys Greg Stokes and Neil Kopitsky toll free at (800) 700-5050 today, or contact them through the law firm's website.
More Blogs:
20-Year-Old Falls 45 Feet to His Death at the Georgia Dome, The Atlanta Personal Injury Attorney's Blog, September 10, 2012
Georgia Institute of Technology Creates Glove That May Improve Motility for Spinal Cord Injury Victims, The Atlanta Personal Injury Attorney's Blog, August 13, 2012
Additional Resources:
Motorcyclist seriously injured in Cherokee County crash, by Mandi Milligan, cbsatlanta.com
Trapped Motorcyclist Flown to Grady, by Rodney Thrash, Canton-Sixes Patch
Photo credit: ilco, Stock.xchng
Categories: