20-Year-Old Falls 45 Feet to His Death at the Georgia Dome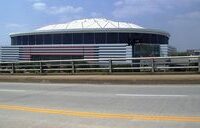 Over the Labor Day Weekend, a 20-year-old Tennessee man was killed when he fell over a 33-inch railing inside of the Georgia Dome. Isaac Grubb reportedly fell 45 feet to his death while watching a football game between the University of Tennessee and North Carolina State. Grubb was allegedly cheering in response to a touchdown scored by Tennessee when he unexpectedly fell over the railing and landed on a 34-year-old South Carolina man seated in the mezzanine below. The first emergency crews purportedly responded to the accident within only one minute. A second team was reportedly on the scene about three minutes later. The unidentified South Carolina man was transported to the Atlanta Medical Center in response to the injuries he allegedly sustained in the tragic accident.
The Georgia Dome is operated by the Georgia World Congress Center Authority (GWCCA). According to a representative for the organization's Police Department, Grubb began consuming alcohol around 5 pm on the day of his death and entered the stadium at 7:23 pm. About an hour later, the young man fell to his death. Investigators from the GWCCA Police Department, the Georgia Fire Marshall's Office, and the Fulton County Medical Examiner's Office reportedly believe alcohol played a major role in the fatal incident. An autopsy is currently planned and Grubb's toxicology results are still pending.
Jennifer LeMaster, a spokesperson for the GWCCA, stated Grubb was not served alcohol while inside of the venue. Additionally, she said the GWCCA has a zero tolerance policy for serving alcoholic beverages to minors. Witnesses to the incident also maintained that Grubb did not purchase alcohol while inside of the Georgia Dome. LeMaster went on to state that fan safety was the GWCCA's highest priority and that the 33-inch railing meets recognized international building code standards. Dome officials allegedly uncovered no equipment failures and do not intend to make any changes to the stadium's standard operating procedures in response to the incident.
A property owner or occupier has a responsibility to ensure their home or business is free of dangerous or defective conditions. In Georgia, a property owner also has a duty to warn anyone who may lawfully enter a property about any hazards or dangers. This is referred to as premises liability. A premises liability case may stem from negligent security, a slip and fall, a trip and fall, falling merchandise, a dog bite, or a swimming pool accident. Additionally, a wide variety of other injuries may give rise to a premises liability lawsuit. If you were injured or a loved one was killed due to a Georgia property owner's negligence, you should contact an experienced premises liability lawyer to discuss your options for recovery.
If you were hurt by a dangerous condition at someone else's home or business, do not hesitate to call the law firm of Stokes & Kopitsky toll free at (800) 700-5050. Our hardworking Atlanta premises liability attorneys have more than 20 years of experience helping injured clients throughout the State of Georgia achieve financial compensation for their harm. For a free confidential case evaluation, please contact dedicated attorneys Greg Stokes and Neil Kopitsky through the law firm's website.
More Blogs:
Spate of August Wrong-Way Crashes in Metro-Atlanta Kill Five People, The Atlanta Personal Injury Attorney's Blog, September 3, 2012
College Student and Animal Rescuer Mauled to Death in Decatur, The Atlanta Personal Injury Attorney's Blog, August 27, 2012
Additional Resources:
Fall at Dome appears to be tragic accident, by Daarel Burnette II, Atlanta Journal-Constitution
Police: 20-year-old fan was drinking before fatal fall at Ga. Dome; second spectator injured, by Associated Press, Washington Post
Photo credit: by Dreman1731 [Public domain], from Wikimedia Commons
Categories: