Spate of August Wrong-Way Crashes in Metro-Atlanta Kill Five People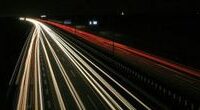 Two people recently died following a wrong-way crash in the northbound lanes of Georgia 400. According to Atlanta police, 24-year-old Frampere Ingle of Marietta entered the northbound roadway heading south at Lenox Road around 4 am on August 15th. Soon after, Ingle collided with a vehicle driven by 44-year-old Eric Hanks of Atlanta head-on near the Atlanta Financial Center tunnel. Hanks died at the scene of the accident. Ingle was transported to Grady Memorial Hospital where she reportedly died as a result of the injuries she sustained in the collision. Ingle's 21-year-old passenger, Beyonica Watts of Kennesaw, was taken to a local hospital in critical condition. Police stated neither Ingle nor Watts were wearing a seat-belt at the time of the fatal crash.
Atlanta Police Officer Kim Jones said alcohol is a suspected factor in the early morning wreck that shut down the roadway for more than three hours. Watts has reportedly admitted that both she and her friend were intoxicated at the time of the accident. Watts believes the Atlanta bar where she and Ingle consumed alcohol on the night of the accident is at fault because security should not have allowed either woman to drive.
The accident was one of four wrong-way crashes on freeways in the Atlanta Metro in August. On August 24th, two wrong-way crashes occurred in the area. 22-year-old Carlyn Emily Royball was killed while driving the wrong-way in an early morning collision on Georgia 400. Later that day, five people were injured in a wrong-way accident on Georgia 316 near Winder Highway in Gwinnett County. On August 29th, two additional people were killed in a Fulton County wrong-way crash in the northbound lanes of Interstate 85. According to state traffic statistics, a wrong-way crash normally occurs on Metro-Atlanta highways only once or twice each year.
According to experts, about one percent of all fatal car accidents are caused by wrong-way drivers. Too often, wrong-way collisions are caused by drunk or impaired drivers who should not be behind the wheel of an automobile in the first place. Still, not all drivers who enter a Georgia highway headed in the wrong direction are under the influence. Some merely misunderstand warning signs and become confused.
Unfortunately, an unexpected automobile collision can occur at any time. In fact, most of the personal injury claims filed in Georgia each year result from car accidents. The injuries sustained in a collision with a wrong-way driver are normally severe. Such accidents are commonly caused by reckless, impaired, or inattentive drivers. They may also be caused by poorly designed roadways or other dangerous road conditions. It is important to remember that whenever a person makes the choice to get behind the wheel while drunk or impaired, they are putting everyone on the roadway at risk.
If you were hurt or a loved one was killed in a wrong-way or other vehicle crash, contact the attorneys at Stokes & Kopitsky. Our knowledgeable Atlanta car wreck lawyers have more than 20 years of combined experience assisting those hurt or disabled in an automobile accident receive the financial compensation their injuries merit. At Stokes & Kopitsky, our skilled attorneys work diligently to achieve the best possible results for you based on the facts of your case. For a free evaluation of your personal injury case, please do not hesitate to call Stokes & Kopitsky toll free at (800) 700-5050 or contact our experienced lawyers through the law firm's website.
More Blogs:
College Student and Animal Rescuer Mauled to Death in Decatur, The Atlanta Personal Injury Attorney's Blog, August 27, 2012
Georgia Institute of Technology Creates Glove That May Improve Motility for Spinal Cord Injury Victims, The Atlanta Personal Injury Attorney's Blog, August 13, 2012
Additional Resources:
2 dead in wrong-way crash on Ga. 400 in Buckhead, by Mike Morris, Atlanta Journal-Constitution
911 tape tells horror of wrong-way wreck, by Marcus K. Garner, Atlanta Journal-Constitution
Wrong-way drivers spur questions, by Ariel Hart, Atlanta Journal-Constitution
Family of dead man blames wrong-way driver, passenger, by Craig Schneider, Atlanta Journal-Constitution
Photo credit: jakubson, Stock.xchng
Categories: