Man Killed, Three Injured in Fulton County Tractor-Trailer Accident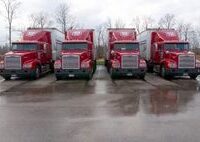 Last week, a 22-year-old College Park man was killed and three other people were hurt in an accident with an 18-wheeler on Camp Creek Parkway in Fulton County. According to accident witnesses, a tractor-trailer headed east failed to stop at a red light while traveling on Camp Creek Parkway. The big rig reportedly struck the driver's side door of a Toyota Solara that was headed north on Butner Road. The semi then allegedly swerved into the westbound lanes of the roadway and collided head-on with a Nissan Altima traveling in the opposite direction. Following the collision with the Altima, the tractor-trailer rolled onto a westbound Toyota Camry.
The driver of the Solara, Shomari Kefentse, reportedly died on impact. Following the crash, rescue crews transported the driver of the Altima to Grady Memorial Hospital in serious condition. The truck driver was also taken to the hospital as a result of the injuries he sustained in the deadly crash. The driver of the Camry allegedly declined medical treatment for his injuries.
The crash was the fifth fatal accident to occur on Camp Creek Parkway this year. In late August, a truck driver was killed when his 18-wheeler left the roadway, struck a cement pole, and burst into flames. In July, another collision involving a tractor-trailer killed two women and hurt four other people. In March, a schoolteacher was also killed in a motor vehicle crash with an 18-wheeler. Additionally, a pedestrian died after he was struck by multiple vehicles while crossing Camp Creek Parkway in February.
Fulton County law enforcement officers are currently investigating the exact cause of the most recent Camp Creek Parkway crash. At this time, it is unclear whether speeding was a factor in the fatal accident. Following the investigation, charges are reportedly expected to be filed against the driver of the 18-wheeler.
As evidenced here, the size and weight of 18-wheelers can cause devastating and fatal collisions. Both state and federal laws regulate the trucking industry in Georgia. Such laws provide a framework of liability for both truckers and the companies that employ them. The victims of a collision with a big rig or other commercial vehicle may be eligible to receive damages for their medical expenses, lost wages and benefits, any resulting disability, suffering and pain, and more. If you were hurt in an accident with an 18-wheeler in Georgia, it is a good idea to discuss your case with an experienced personal injury attorney as soon as you are able.
If you were hurt or a loved one was killed in an accident with a semi, call Stokes & Kopitsky, P.A. toll free at (800) 700-5050. Our capable Fulton County truck accident lawyers have more than 30 years of experience helping the victims of unexpected injury accidents in the State of Georgia recover the compensation they deserve. At Stokes & Kopitsky, our competent lawyers are available to explain the various claims you may have against liable trucking companies and their negligent drivers. For a free confidential evaluation of your personal injury claim, please do not hesitate to contact Greg Stokes and Neil Kopitsky through our website.
More Blogs:
Danielsville Man Hurt in Log Truck Rollover Accident on Highway 98 in Commerce, The Atlanta Personal Injury Attorney's Blog, October 15, 2012
Gwinnett County Teen Critically Injured by Impaired Driver While Waiting for School Bus, The Atlanta Personal Injury Attorney's Blog, October 8, 2012
Additional Resources:
String of deadly wrecks on Camp Creek Parkway, by Mike Morris, Atlanta Journal Constitution
Victim identified in S. Fulton tractor-trailer accident, by Melissa Roberts and Rebekka Schramm, cbsatlanta.com
Photo credit: jpsdg, Stock.xchng
Categories: