Boxing Champ Paul Williams Left Paralyzed Following Marietta Motorcycle Accident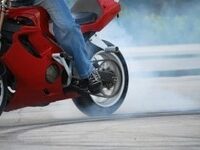 Over the Memorial Day Weekend, 30-year-old boxing champion Paul Williams was left paralyzed from the waist down following a motorcycle crash in Marietta. According to the Public Information Officer for the Marietta Police Department, David Baldwin, Williams crashed at a high rate of speed on the South Marietta Parkway near Atlanta Road. Williams reportedly left the roadway and struck an embankment following his attempts to avoid being hit by an oncoming vehicle. In a press release, Baldwin stated Williams was driving too fast for conditions. He also said despite that the accident is currently under investigation charges are now pending against Williams.
During the accident, Williams was thrown from the motorcycle and suffered a crushed spinal cord in his lower back. Although Williams has no sensation or movement from the waist down, he is currently in stable condition at WellStar Kennestone Hospital. Following the accident, Williams underwent surgery in the hopes of stabilizing his upper spine. Despite that he will soon begin rehabilitation, doctors have reportedly told Williams he will never walk again. According to Williams' manager, George Peterson, the boxing champion is not in pain and suffered no other physical injuries. Williams told news reporters he believes he still may have a shot at walking again one day.
Every year, automobile and motorcycle accidents cause more than 40 percent of spinal cord injuries in Georgia and throughout the nation. Spinal cord injuries often result in damage to the vertebrae, discs, or ligaments in a person's back. Such an injury may cause partial or complete paralysis. In 1999, the Georgia Brain and Spinal Injury Trust Fund was created to help individuals with spinal cord injuries offset the high costs of medical and other necessary services. On average, the cost of initial hospitalization following a spinal cord injury is approximately $140,000. The cost for lifetime services often reaches more than $1 million. Unfortunately, about 63 percent of spinal cord injury victims are still unemployed eight years after their trauma. If you or a loved one was the victim of a spinal cord injury, you should contact a capable Georgia personal injury attorney as soon as you are able.
If you or a family member was hurt in an automobile crash, call the lawyers at Stokes & Kopitsky, P.A. toll free at (800) 700-5050. Our skilled Atlanta-Metro spinal cord injury attorneys have more than 20 years of combined experience assisting injured clients throughout the State of Georgia. Our lawyers are dedicated to helping individuals who have suffered a catastrophic injury receive fair compensation.
An unexpected spinal cord injury can raise complex legal issues. At Stokes & Kopitsky, P.A., our knowledgeable car accident lawyers are highly experienced negotiators and litigators. To schedule a free confidential case evaluation with one of our hardworking attorneys, contact the law firm through our website today.
More Blogs:
At Least 65 Injured in Newton County Crash Involving Six School Buses, The Atlanta Personal Injury Attorney's Blog, May 28, 2012
What if We Don't Handle Your Type of Case?, The Atlanta Personal Injury Attorney's Blog, May 24, 2012
Additional Resources:
Boxing champ Paul Williams tells 11Alive News: 'I will walk again', by Jon Shirek, 11alive.com
Police: Boxer Paul Williams speeding before crash, 11alive.com and USA Today
Categories: