At Least 65 Injured in Newton County Crash Involving Six School Buses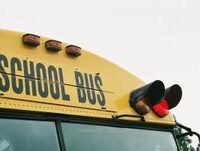 Last weekend, at least 65 people were hurt when six Burke County Middle School buses on their way to a Six Flags amusement park near Atlanta were involved in a pile-up crash on Interstate 20 in Newton County. The multi-vehicle accident occurred in a construction zone near Covington. According to Gordy Wright, the Director of Public Information at the Georgia State Patrol, the buses began to collide when traffic slowed to merge into a single lane. After one bus reduced speed, another reportedly struck it from behind and started a chain reaction. An automobile following the motorcade of buses was also damaged in the accident.
Emergency crews from both Newton and Morgan Counties were dispatched to the scene of the accident. A 44-year-old bus driver, Angela Anthony, was cut from the wreckage using the Jaws of Life and taken by helicopter to Grady Memorial Hospital. More than 50 middle school students were also transported to four local hospitals for examination. At least two children reportedly suffered from visible injuries. A spokesperson for the Burke County School System, Amy Nunnally, stated all of the children who were injured suffered from only minor scrapes and bruises. According to Nunnally, the injured bus driver was conscious and spoke with emergency responders throughout the ordeal. Although most of the children were retrieved from area hospitals by their parents, 22 were later transported back to Burke County using Morgan County school buses.
The amusement park trip was reportedly planned as a reward to the students for scoring well on a statewide assessment test. The children were escorted on the trip by the school's principal, Rudy Falana. According to Wright, the crash is currently under investigation and charges will be filed.
Folks in Georgia spend a lot of time traveling in motorized vehicles every year. Unfortunately, car accidents are bound to happen. Automobile crashes are one of the leading causes of personal injury and wrongful death claims filed in our state each year. Vehicle collisions can be caused by many factors including inattentive, reckless, or impaired drivers. Automobile defects and hazardous road conditions can also cause a great number of accidents. Luckily, the children in this case were not severely injured as a collision such as this one could have easily resulted in a tragic death. Both drivers and passengers who are hurt due to someone else's carelessness may be entitled to receive compensation for pain, suffering, medical bills, any resulting disability, and even the wrongful death of a loved one. If you or a family member was injured in a car accident, you should contact a knowledgeable Georgia personal injury lawyer.
If you or a loved one was hurt in an automobile crash, call Stokes & Kopitsky, P.A. toll free at (800) 700-5050. Our skilled Atlanta car accident attorneys have more than 20 years of combined experience helping injured clients throughout the State of Georgia receive the compensation they deserve. At Stokes & Kopitsky, P.A., our dedicated personal injury lawyers are highly experienced negotiators and litigators. To schedule a free confidential case evaluation, contact our hardworking attorneys through the law firm's website today.
More Blogs:
Georgia Accident Highlights Dangers of Zip Lines, The Atlanta Personal Injury Attorney's Blog, May 21, 2012
What are Structured Settlements, and How Can They Help My Atlanta Injury Case??, The Atlanta Personal Injury Attorney's Blog, May 17, 2012
Additional Resources:
Dozens treated after I-20 school bus accident, by Christopher Seward, Atlanta Journal-Constitution 65 injured children involved in Burke County school bus crash return home, Augusta Chronicle
Categories: