Georgia Accident Highlights Dangers of Zip Lines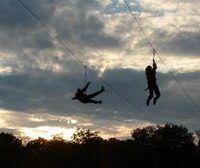 When a University of West Georgia graduate student decided to take a ride on a friend's homemade zip line over the Little Tallapoosa River earlier this month, she likely didn't think much about it. Zip lining high above the ground has become a popular recreational activity in Georgia. When the zip line snapped, however, 24-year-old Aimee Copeland landed below on the rocks. The resulting injuries required a trip to the hospital and several staples in her leg. The case has made headlines because Copeland also contracted deadly flesh-eating bacteria and is now fighting for her life in an Augusta hospital.
According to those involved in the zip line industry, accidents are uncommon so long as safety precautions are taken seriously. James Borishade, Executive Director at the Association for Challenge Course Technology (ACCT), said an estimated 18 million people use commercial zip lines each year. ACCT is one of two organizations that has established industry zip line standards and offers accreditation for builders and inspectors. The zip line industry is reportedly growing quickly and more than a dozen commercial zip lines are now operated with the boundaries of Georgia.
Although amusement companies are required to follow industry inspection standards, there are currently no federal or state regulations regarding zip lines in Georgia. Borishade stated most commercial zip lines are inspected annually and accidents are reportedly rare. Still, given the risk of traumatic injury, zip line owners cannot be too careful. According to Borishade, anyone who does not use a professional to install a zip line is placing people in an unnecessarily risky situation.
In Georgia, a personal injury is any harm to an individual's body or mind that was caused by another person's negligence. When someone breaches a duty of care and an injury results, the negligent party may be subject to a personal injury lawsuit. The liable person may be required to pay someone who is hurt for their pain, suffering, disability, medical bills, lost wages, or other damages. In some circumstances, punitive damages will also be awarded.
Under Section 51-3-2 of the Official Code of Georgia, property owners have duty to exercise ordinary care to prevent injuring a licensee. In this case, because Copeland was welcomed onto the property by her friend and a dangerous or defective zip line existed on the premises, the property owner's insurance company will likely be required to pay damages related to her injury accident. If you were hurt as a result of a dangerous condition on someone else's property, you should contact an experienced Georgia premises liability lawyer as soon as possible to discuss your case.
If you or a loved one was injured due to someone else's negligent act, contact the lawyers at Stokes & Kopitsky today. Our knowledgeable Atlanta personal injury attorneys have more than 20 years of combined experience helping people who were hurt through no fault of their own receive fair compensation. At Stokes & Kopitsky, our hardworking lawyers will work diligently to achieve the best possible results for you based on the facts of your individual case. Contact Stokes & Kopitsky today through our website or call us toll free at (800) 700-5050.
More Blogs:
What are Structured Settlements, and How Can They Help My Atlanta Injury Case??, The Atlanta Personal Injury Attorney's Blog, May 17, 2012
Residential Construction Company Cited $66,600 for Safety Violations at Cumming Building Site, The Atlanta Personal Injury Attorney's Blog, May 14, 2012
Additional Resources:
Zip line industry emphasizing safety in wake of accident, by Christopher Seward, The Atlanta Journal-Constitution
Categories: