The 3-foot Passing Bill – A Huge Safety Help for Georgia Cyclists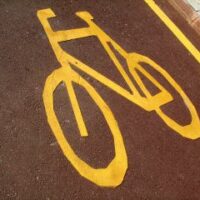 Neil Kopitsky has been a racing cyclist since 1986 and an attorney representing injured people in Georgia since 1995. When he first heard about a pending bill for a law called the "Three-Foot Law" or the "Three-Foot Bill," he was skeptical. This bill, if it becomes law, will require cars to keep three feet between themselves and a bicycle when passing. However, Neil originally felt that as a racing cyclist, he could ride a straight line and did not need three feet between his bike and a car – he just needed cars to stay far enough away not to hit him. He was also concerned that the law would generate hostility in drivers. However, he says, "as I have talked to people about this, my opinion has changed 180 degrees," and he now supports the bill and encourages other bicyclists to support it as well.
As an injury attorney, Neil has represented many cyclists. He's found that the second most common car-cycle collision occurs because the car either hit the cyclist from behind, or sideswiped the cyclist when passing. Even though bicyclists might not need the three extra feet, the fact is that cars do.
A three-foot cushion would also limit the ability of motorists to falsely claim, as they usually do, that they are not responsible for the accident because the cyclist swerved into them. A three-foot cushion would give the motorist space to react even if there actually was the very rare situation where a cyclist swerved out from the side of the roadway.
Additionally, a three-foot cushion would give a cyclist room to move to the left if there was a pothole, glass, or other obstruction on the side of the road that prevented the cyclist from riding a straight line. And an additional law is unlikely to increase hostility; it already exists in some people, and a new law is unlikely to make it worse. The bottom line: please take the time to contact your state legislator and tell them that you favor the Three-Foot Law, and tell them that it is important for you and for bicycling safety.
f you are injured due to the fault of another person while you are riding your bicycle, please call us at Stokes & Kopitsky, P.A. for your free, no-obligation consultation. We have represented dozens of injured bicyclists over the past 15 years, and we have years of experience in proving claims and obtaining settlements and awards for our clients.
We offer live-person phone answering 24/7, and our fees and costs are paid from the settlement or court award. If we do not obtain a settlement or court award for you, there are no fees. Please call Stokes & Kopitsky at (404) 892-0011 for expert, caring legal help if you have been injured in a bicycle accident, or any other accident. We welcome your calls.
Categories: