Atlanta Woman Killed in Tractor-Trailer Accident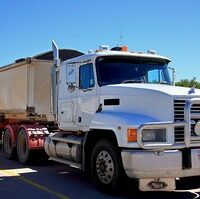 Tractor-trailers are large transport conveyances pulled by a truck or tractor. The National Highway Traffic Safety Administration estimates that over 100,000 people were killed last year in accidents involving tractor-trailers. This year, a Georgia woman became one of the first tractor-trailer fatalities of 2012. Fatalities from such collisions are expected to rise as the number of tractor-trailers increases to keep up with interstate commerce.
On January 17, 2012, Shannon Joiner was driving her Honda Civic on Interstate 85 when she encountered a large tractor-trailer that had run out of gas. The truck was parked where the interstate merged with State Route 316. The driver had pulled over between the 316 ramp and the main lanes, waiting for help. Joiner used the 316 ramp and was trying to merge onto I-85 when she hit the tractor-trailer from behind. The Civic became embedded underneath the vehicle, crushing Joiner. Gwinnett County Police and Fire Department had to extricate Joiner, who died of her injuries. Joiner was 26 years old. The truck driver was not injured.
Georgia and federal law regulate commercial carriers who lease trucks for their business operations. More stringent regulations require carriers to obtain a commercial driver's license (CDL) and undergo extensive testing to receive endorsements on their CDL. They also make carriers vicariously liable for the negligent conduct of the vehicle's drivers. These state and federal regulations were passed to prevent owners and operators from avoiding liability by classifying their drivers as "lessees" or independent contractors.
Now, the Interstate Commerce Carrier Act requires drivers to carry surety bonds insuring them against liability for bodily injury or death arising from the negligent use, operation, or maintenance of the vehicle. The Official Code of Georgia Annotated (OCGA) Section 46-7-3 likewise requires motor carriers to carry a bond for the protection of the public against injuries proximately caused by the negligence of the carrier, its servants, or agents. This insures against liability for damages where the driver, owner, or operator of a commercial carrier is negligent.
In Joiner's case, it is unclear whether the truck driver was negligent. State and federal laws nevertheless require him to carry insurance protecting against liability for personal injury or death. The Georgia Department of Transportation also sets forth rules governing vehicles with "loads of excess weight" or dimension. Section 672-2-.01 provides:
When a tractor/trailer combination becomes disabled, a permitted wrecker may transport the disabled vehicle within 50 miles to a repair facility or safe location to dismantle the tractor/trailer. If a weigh station or rest area is closer, transporters may leave the dismantled vehicle at that location, but must move it within 24 hours.
Here, the driver ran out of gas and had pulled over between the interstate and ramp. He presumably waited for assistance to transport the tractor-trailer to the nearest gas station or repair facility. Joiner struck the parked truck while attempting to cross over the gore from the ramp to the main lanes. Whether the driver was negligent in failing to fill up or pull over at a safe distance remains to be seen. The accident is still under investigation.
If you were injured in a truck or tractor-trailer accident, the experienced Atlanta tractor-trailer accident lawyers at Stokes & Kopitsty can help. Under Georgia law, injured victims and immediate family members are entitled to several forms of compensatory damages arising out of the accident. For over 20 years, Stokes & Kopitsky has successfully handled numerous personal injury and wrongful death claims, recovering over $100 million in verdicts and settlements for clients throughout Georgia. Call Stokes & Kopitsky at (800) 700-5050 for a free consultation.Web Resources:
More Blog Posts:Damages: What are they and what do they mean for my Atlanta Injury Case? The Atlanta Personal Injury Attorneys Blog The Importance of Photographs after You've Been in a Car Crash, The Atlanta Personal Injury Attorneys BlogWhat is Pain and Suffering in Georgia Personal Injury Law? The Atlanta Personal Injury Attorneys Blog
Categories: