Two Killed in Hit-and-Run Accident Caused by Semi on I-75 in Bartow County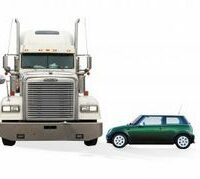 On December 21st, two people were killed in a daytime hit-and-run crash when a semi struck a sport utility vehicle (SUV) in the northbound lanes of Interstate 75 near exit 293 in Bartow County. According to the Georgia State Patrol, the tractor-trailer was changing lanes when it hit a Ford Expedition driven by 29-year-old Maria Tabuena of Calhoun. The impact purportedly forced the SUV off of the roadway where it struck a guardrail and a support post before the vehicle burst into flames. Sadly, the driver of the SUV and her four-year-old daughter, Melina Trichell, were both killed in the incident.
The maroon long-nose Peterbilt truck allegedly continued without stopping. According to an accident witness, the cab had orange fenders and the silver refrigerated trailer had two horizontal red stripes on the rear doors. Crime Stoppers is reportedly offering a reward to anyone who can assist the Georgia State Patrol in finding and arresting the driver of the big rig that caused the fatal crash.
Unfortunately, the sheer size and weight of tractor-trailers means any collision involving a big rig can be devastating or fatal. Both federal and state laws regulate commercial trucks that operate on Georgia interstates and roadways. In general, trucking laws provide a framework of liability for big rig drivers and the companies that employ them. Due to federal regulations, 18-wheeler accidents often involve a number of unique pieces of evidence that are not normally available in other vehicle wrecks. For example, on-board computers, driver logs, or other required documentation may help investigators to shed light on the cause of a deadly crash like this one.
The victim in a collision with a tractor-trailer may be entitled to financial compensation for their medical costs, lost benefits and wages, any permanent or temporary disability that resulted from the crash, suffering and pain, and more. Certain relatives of someone who was killed as a result of a truck driver's negligence may also be eligible to receive funeral expenses and other damages. If you were injured or lost a loved one in an accident with an 18-wheeler, you should discuss your case with a skilled Georgia personal injury lawyer.
If you were hurt or a family member was killed in a Georgia truck accident, call the attorneys at Stokes & Kopitsky, P.A. toll free at (800) 700-5050 today. Our dedicated Bartow County tractor-trailer accident lawyers have more than 30 years of experience helping individuals throughout the State of Georgia achieve the compensation they deserve following an unexpected injury accident. At Stokes & Kopitsky, P.A., our committed motor vehicle accident attorneys are ready and willing to help you file your personal injury or wrongful death case. To schedule a free confidential case evaluation with a knowledgeable lawyer, please do not hesitate to contact attorneys Greg Stokes and Neil Kopitsky through our website.
More Blogs:
Bicyclist Critically Injured by Pick-Up Truck on Georgia 20 in Canton, The Atlanta Personal Injury Attorney's Blog, January 14, 2013
Lee County Woman Cited for Texting While Driving Following Crash With Police Cruiser in Albany, The Atlanta Personal Injury Attorney's Blog, January 7, 2013
Additional Resources:
Reward offered in fatal hit-and-run, by Staff, Daily Tribune News
Authorities search for tractor trailer in double fatal accident, by Eden Godbee, 11alive.com
Photo credit: jpsdg, Stock.xchng
Categories: