Georgia Supreme Court Holds Savannah Property Owner Not Liable for Alligator Attack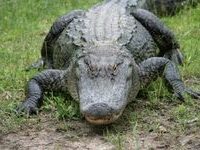 In a 4-3 decision, the Supreme Court of Georgia ruled that a Savannah homeowners association and golf club was not responsible for the death of an elderly woman on their property. In October 2007, 83-year-old Gwyneth Williams was found dead by a lagoon jointly owned by the Landings Club and the Landings Homeowners Association ('HOA'). She was allegedly killed inside of the gated community by an alligator while taking a late night stroll. Williams' body was found with several limbs missing which were later found inside of an eight-foot alligator trapped on the property. Despite that, a Chatham County Medical Examiner stated the woman bled to death and it was unclear whether the elderly woman in fact died prior to the alligator attack.
In 2008, Williams' family filed a wrongful death lawsuit against the property owners, alleging that the golf club and HOA failed to keep residents safe from the alligators that lived in the lagoons on the property. In response, the property owners filed a motion for summary judgment. A Chatham County State Court judge denied the property owners' motion, but refused to allow Williams' family to use a viscous animal law as part of their case. A seven member Court of Appeals panel affirmed the lower court's decision to deny summary judgment and stated the case should proceed to trial. The property owners then appealed to the Georgia Supreme Court.
According to the Supreme Court, Williams assumed the risk of being attacked by an alligator despite the fact that no warning signs were posted near the lagoon, since residents were previously warned about allegedly aggressive alligators on the property in HOA publications, and on the organization's website. Additionally, the Court stated some evidence demonstrated that Williams was aware of the presence of alligators when she chose to take a walk alone outside at night. Consequently, the Court held that the property owners' motion for summary judgment should have been granted.
In his dissent, Georgia Supreme Court Justice Robert Benham argued the motion was properly dismissed by the lower court because there was disputed evidence about whether the property owners previously advertised that all large and aggressive alligators were removed from the location. According to Justice Benham, the case should have been tried before a jury. It is currently unclear what impact the case may have on future Georgia premises liability cases.
Premises liability refers to a property owner or occupier's responsibility to ensure a property is free of dangerous or defective conditions. In Georgia, a property owner also has a duty to warn anyone who may lawfully visit the location about any dangers. A premises liability case may stem from slips or trips and falls, falling merchandise inside of a business, negligent security, dog bites, swimming pool accidents, or other injuries. If you were hurt by a property owner's negligence, you may be eligible to receive damages for your injuries.
If you were injured by a dangerous or defective condition at another person's home or business, call the law firm of Stokes & Kopitsky toll free at (800) 700-5050. Our knowledgeable Savannah premises liability lawyers have more than 20 years of experience assisting injured clients throughout the State of Georgia. The dedicated attorneys at Stokes & Kopitsky will work tirelessly to achieve the maximum compensation for you based on the facts of your case. For a free confidential case evaluation, contact hardworking lawyers Greg Stokes and Neil Kopitsky through the law firm's website.
More Blogs:
Atlanta Manufacturing Company Receives $86,200 in Proposed Penalties for 26 Worker Health and Safety Violations, The Atlanta Personal Injury Attorney's Blog, July 16, 2012
Three Pyrotechnicians Hurt in Cherokee and Carroll County Fireworks Display Incidents, The Atlanta Personal Injury Attorney's Blog, July 9, 2012
Additional Resources:
Golf club isn't liable for woman-eating alligator, by Kathleen Baydala Joyner, Law.com
The Landings Association v. Williams, S11G1263 and The Landings Club v. Williams, S11G1277, June 18, 2012 Photo credit: nfocus, Stock.xchng
Categories: