Atlanta Danger on Property Lawyer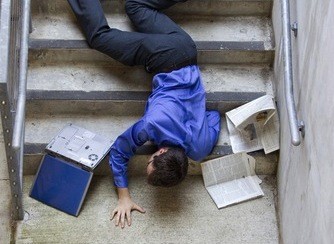 Stokes & Kopitsky, P.A., leading Atlanta danger on property lawyers, has recovered settlements for victims who have been injured in and around Georgia due to poor lighting in a store or lack of warning signs around a construction area.
Under Georgia law, property owners have a duty of care to most people who step on their property. This duty increases or diminishes depending on the type or visitor present. Owners owe the highest duty of care—and are most liable—to those who are "invited" to their property for some business purpose. Store owners, for example, gain some material benefit from the presence of shoppers on their property. As such, they owe these "invitees" a certain standard of care. Specifically, the Official Code of Georgia Annotated (OCGA) §51-3-2 provides:
Where an owner or occupier of land, by express or implied invitation, induces or leads others to come upon his premises for any lawful purpose, he is liable in damages to such persons for injuries caused by his failure to exercise ordinary care in keeping the premises and approaches safe.
You do not have to be formally invited to the premises to be an invitee. Nor does the owner have to lure you into the shop with some incredible deal. An invitee may wander into a store intending to purchase bananas and decide to use the facilities. Someone from out of town might visit the Georgia Fair to enjoy some delicious peaches. These visitors "come upon" the premises for a lawful purpose. The owner owes them a duty of care to keep the premises safe. This would include warning customers of a slippery floor, blocking off entries with unsafe steps, removing obstructing objects in a path or walkway, and maintaining adequate lighting in all accessible areas. Owners who breach this duty are liable for any injuries that result from the danger on the property.
Another type of visitor who is not invited, but whose presence the owner allows or expects, is known as a "licensee." Meter readers, postal workers, and even solicitors fall under this category. Pursuant to OCGA §51-3-2, the property owner has a duty to prevent "recklessly or wantonly" injuring the licensee. For example, a contractor may have no contractual relationship with drivers or pedestrians passing his construction site. These outsiders may even be trespassers. But the construction party can foresee the possibility of cars careening into the open ditch they created around the site or kids wandering into an unfinished entrance just to explore. The landowner or occupier therefore has a duty to fence off the dangerous areas and post warning signs around the site. While visitors might accidentally wander onto the property unaware of the risks, the owner knows or should know of possible dangerous conditions on the property. To avoid wanton or reckless injury to licensees and unwary trespassers, owners should post warning signs around construction sites.
If you or someone you know has been injured due to poor lighting or lack of warning signs, you may be entitled to compensation for your injuries. An experienced Atlanta dangers on property attorney can help you recover the damages to which you are entitled. Call Stokes & Kopitsky, P.A. at 404-892-0011 today for a free consultation or fill out our online Contact Us form.
Related Topics: