Atlanta Slip and Fall Attorney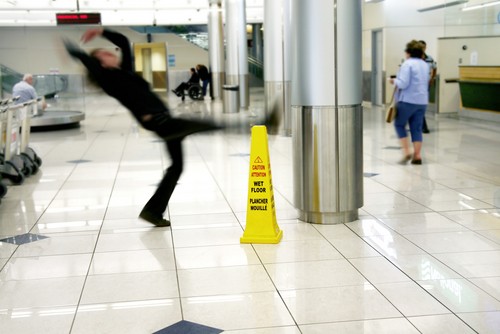 Stokes & Kopitsky, P.A. are highly regarded Atlanta slip-and-fall accident attorneys with over 30 years of experience in assisting injured parties and their families recover damages caused by slip and fall accidents in Atlanta and Georgia. At Stokes & Kopitsky, P.A., we understand that one false step can lead to a lifetime of disability.
Slip and fall accidents happen every day. The Centers for Disease Control and Prevention estimate that more than 17 million people are killed in slip-and-fall accidents each year. On average, slip and falls lead to 104 million lost workdays in North America and $3.5 million in lost revenue per hour. Slip and fall accidents are the leading cause of injuries leading to death in seniors and the leading cause of non-fatal injuries to children 14 years and under. They are one of the most common causes of traumatic brain injuries and injuries to the head and neck. In fact 20% to 30% of victims suffer moderate to severe injuries including sprains, fractures, torn ligaments, and broken bones. Many times, serious injuries lead to temporary and permanent disability, preventing the slip and fall victim from returning to work.
Georgia laws impose a duty of care on owners or occupiers of property to keep their premises safe. The Official Code of Georgia Annotated (OCGA) §51-3-1 provides:
Where an owner or occupier of land, by express or implied invitation, induces or leads others to come upon his premises for any lawful purpose, he is liable in damages to such persons for injuries caused by his failure to exercise ordinary care in keeping the premises and approaches safe.
One of the most common preventable accidents is the slip and fall. Whether you step on to the property as an invitee, licensee, or in some cases, even a trespasser, the owner has some duty to exercise care in either preventing or warning of foreseeable dangers. Thus, a store owner is responsible for keeping all accessible parts of his premises in good repair. Building owners must likewise protect visitors, employees, and licensees from "reckless and wanton" harm.
Some common and preventable causes of slip and fall accidents include:
Slippery floors
Unsafe steps or stair railings
Uneven sidewalks and walkways
Loose carpet or rugs
Some obstruction in the walkway such as a delivery box, rake, or mop
Inadequate lighting or warning signs
Ice or snow on walkways and stairs
An owner or occupier of land that knows or should have known of these dangerous conditions is liable in damages to any person who slips and falls on the premises because he has breached his duty to exercise reasonable care. Georgia's workers' compensation laws likewise protect employees who trip and fall while performing their job duties. An experienced premises liability lawyer can help you negotiate the best recovery for your injury, including medical expenses, lost income, and any permanent disability benefits to which you are entitled.
If you or someone you know was injured in a slip and fall accident, our experienced Atlanta slip and fall attorneys are here to help. We have recovered over $100 million in verdicts and settlements and provide the highest quality representation to clients who have been injured in Atlanta and elsewhere in Georgia. Call Stokes & Kopitsky, P.A. at 404-892-0011 for a free consultation or Contact Us online.
Related Topics: