What If Your Teen Driver Caused a Serious Car Accident?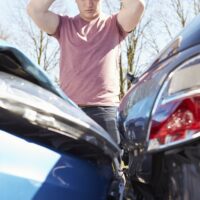 Table of Contents:
As scary as it may be to consider, if you have a teenage driver, he or she may very like cause a car accident.  The Department of Motor Vehicles reports that drivers aged 16 to 19 have the highest average annual crash and traffic violation rates of any other age group. This means that there is a possible correlation between driving behavior and age.
As a parent, dealing with such a situation can be extremely stressful and upsetting.  So what do you do if your teenager causes a serious road accident?
Georgia may have enacted laws to decrease the number of teen driver accidents — specifically the graduated licensing laws — but the combination of inexperience and distractions (i.e., digital devices, other teens in the vehicle, etc.) could create a situation that leads to a serious accident.
If your teenager causes a car accident, contact an expert Atlanta personal injury lawyer immediately. You need this kind of expertise and experience because your teenager may be liable for injuries and property damage.
The impact of the accident may also be aggravated if your teenager is found to have driven while intoxicated. Under Georgia law, any driver under 21 with a BAC (blood alcohol level) of .02 percent can be charged with DUI. But while an implied consent law means that the teenager has to submit to a chemical test, there are certain provisions that may challenge the admissibility of the test, including its results, in the court of law. And only an experienced Atlanta personal injury lawyer would be able to make this case.
Pages: 1 2