Teen Killed in Tragic Bicycle Accident on North Ola Road in Henry County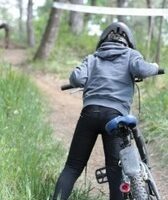 A Henry County teenager was recently killed by a police cruiser while riding a bicycle. According to Henry County Police Sergeant Joey Smith, the fatal accident occurred when a 14-year-old child rode his bike out of a driveway onto North Ola Road and into the path of an oncoming law enforcement officer. The 35-year-old driver of the police cruiser was purportedly unable to stop before striking the boy. Following the collision, the teen was reportedly taken to Children's Healthcare of Atlanta at Egleston via medical helicopter with serious injuries. Sadly, Henry County Coroner Donald Cleveland stated the child later died as a result of the wounds he sustained in the bicycle accident.
The crash is currently being investigated by members of the Georgia State Patrol. In addition, the officer who allegedly struck the boy is reportedly on leave pending the results of the investigation. Smith stated the officer was distraught, but uninjured in the collision. Apparently, the middle school student was not wearing a bicycle helmet at the time of the wreck.
Data from the National Highway Traffic Safety Administration claims that 630 bicyclists died and approximately 51,000 were injured in a traffic wreck in the United States in 2009. In fact, Georgia is supposedly the sixth deadliest state for bicycle riders. The University of Georgia's Survey Research Center has reported that around 13 percent of Georgia residents ride a bike at least once per month and about 81 percent said they would ride a bicycle more often if they felt safer doing so.
Catastrophic or fatal injuries such as those sustained by the child in this situation often result when a bicyclist collides with a motor vehicle. If you were injured by a careless driver while riding your bicycle, you may be entitled to receive compensation for your medical expenses, any resulting temporary or permanent disability, suffering and pain, lost wages and benefits, and other damages. Additionally, certain close relatives of someone who was killed in a bicycle accident may be entitled to file a wrongful death lawsuit. Contact a capable Georgia bicycle collision lawyer to discuss your right to recovery in greater detail.
Give the hardworking attorneys at Stokes & Kopitsky, P.A. a call toll free at (800) 700-5050 if you were hurt or a family member was killed in a bicycle or other traffic wreck. Our knowledgeable Henry County personal injury lawyers have more than 30 years of experience helping bicycle accident victims throughout the State of Georgia receive the compensation they deserve based upon the severity of their injuries. At Stokes & Kopitsky, P.A., our caring attorneys are ready and willing to help you file your personal injury or wrongful death case. To schedule a free confidential case evaluation with a dedicated advocate, please contact attorneys Greg Stokes and Neil Kopitsky through our website.
More Blogs:
Macon Five-Year-Old Tragically Killed in Pedestrian Accident With Bibb County School Bus, The Atlanta Personal Injury Attorney's Blog, April 29, 2013
Explosion at Bartow County Power Plant Injures Four Workers, The Atlanta Personal Injury Attorney's Blog, April 22, 2013 Additional Resources:
Community mourns teen hit, killed by police car, by Sophia Choi and Ashley Swann, wsbtv.com
Henry County teen struck by police car dies, by Andria Simmons and Leon Stafford, The Atlanta Journal-Constitution
Photo credit: K0cou, Stock.xchng
Categories: