Macon Five-Year-Old Tragically Killed in Pedestrian Accident With Bibb County School Bus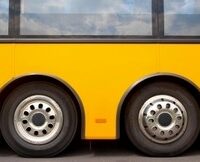 A five-year-old Macon child was tragically killed when she was hit by a Bibb County School bus near her home. The Barden Elementary School kindergartener was reportedly crossing Virginia Drive with other children around 4 pm when she was struck by a rear tire on the passenger vehicle. According to the Macon Police Department, the girl stepped off of a curb and walked backwards into a school bus that was in the process of turning. The impact allegedly knocked the child to the ground where the wheel reportedly ran over her torso. Following the incident, the five-year-old was purportedly taken by ambulance to the Medical Center of Central Georgia where she underwent surgery. Bibb County Coroner Leon Jones stated the girl was pronounced dead at the hospital about three hours after she was struck by the school bus.
The exact cause of the fatal accident is currently under investigation by local law enforcement officials. Two witnesses supposedly told police that the bus driver was talking on a cell phone when the girl was struck. At this time, no charges have been filed in connection with the tragedy.
Regrettably, pedestrians throughout the State of Georgia are placed at risk of being hurt or killed by a careless driver every day. As occurred in this unfortunate case, pedestrian accidents can affect children who are walking to or from school. Such crashes may also affect runners, parents who are pushing their children in strollers, commuters, tourists, and others traveling on foot. Too often, a pedestrian crash is caused by a distracted, inattentive, impaired, or otherwise negligent driver.
When a pedestrian is involved in an accident with an automobile, the result is often catastrophic or fatal. If you were injured in an accident with a car, truck, or other vehicle, you may be eligible to receive financial compensation for your medical expenses, suffering and pain, any resulting disability, physical therapy, lost wages, and more. If you lost a close family member in a pedestrian accident, you may also be entitled to file a wrongful death claim. A quality personal injury lawyer can describe your right to recovery in more detail.
Please give the caring attorneys at Stokes & Kopitsky, P.A. a call toll free at (800) 700-5050 if you were hurt or a family member was killed in a pedestrian accident in Georgia. Our dedicated Macon personal injury lawyers have more than 30 years of experience helping pedestrian and other accident victims throughout Georgia achieve the compensation they deserve based upon the severity of their injuries. At Stokes & Kopitsky, P.A., our knowledgeable attorneys are ready and willing to help you file your personal injury or wrongful death claim. To schedule a free confidential case evaluation with a capable advocate, do not hesitate to contact attorneys Greg Stokes and Neil Kopitsky through our website.
More Blogs:
Explosion at Bartow County Power Plant Injures Four Workers, The Atlanta Personal Injury Attorney's Blog, April 22, 2013
Additional Resources:
UPDATE: 5-Year-Old Dies After Being Hit by School Bus, by Andrew Reeser, 41nbc.com
Photo credit: johnnyberg, Stock.xchng
Categories: