Explosion at Bartow County Power Plant Injures Four Workers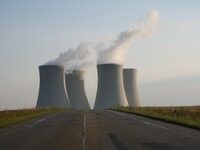 In early April, an explosion at a Bartow County power plant reportedly left four people hurt. According to Georgia Power spokesperson Brian Green, the explosion occurred in a power house at Plant Bowen while workers were shutting down one of four coal burning units for maintenance. Following the explosion, three employees were allegedly treated on-site and a 60-year-old man was transported to Cartersville Medical Center for a leg injury. In addition, the power plant was purportedly shut down while the nation's Occupational Safety and Health Administration (OSHA) investigated the incident.
The power plant was built in the 1970s and is reportedly one of the largest in the nation. It apparently employs approximately 400 people. OSHA spokesperson Lindsay Williams stated the agency has six months to investigate the explosion and determine whether Georgia Power violated any federal safety standards. Williams also said OSHA will not issue comments until the investigation is complete.
Thankfully, this explosion did not kill any power plant employees. Still, it qualifies as a serious workplace accident. Most workplace accidents in Georgia and nationwide that result in employee injury or death are investigated by OSHA. The agency was created in an effort to reduce and prevent worker injuries and fatalities across the United States. The Occupational Safety and Health Act of 1970 requires industrial and other employers throughout the nation to provide all employees with a working environment that is reasonably free of preventable safety hazards. Under the Act, employers must adhere to a number of federal safety requirements such as providing workers with access to safety training, safety test results, and information about potential workplace hazards.
Sadly, workplace accidents kill and hurt workers throughout Georgia every year. In addition, many employees in our state and across the country face unsafe working conditions on a daily basis. Although individuals who are injured at work are normally protected by state workers' compensation laws, a third party such as an equipment manufacturer that somehow contributed to an injury accident may also be held liable for a worker's tragic death or harm. If you were injured or someone you love was killed in a workplace accident, you should contact a quality work injury attorney as soon as you are able.
Please call the dedicated lawyers at Stokes & Kopitsky, P.A. toll free at (800) 700-5050 if you were hurt or a family member was killed in an accident at work. Our hardworking workers' compensation attorneys have more than 30 years of experience helping accident victims throughout Georgia achieve the compensation they deserve based upon the severity of their injuries. At Stokes & Kopitsky, P.A., our caring lawyers are ready and willing to help you file your workers' compensation or other personal injury claim. To schedule a free confidential case evaluation with an experienced advocate, please contact lawyers Greg Stokes and Neil Kopitsky through our website.
More Blogs:
Bicycle Rider Killed in Marietta Hit-and-Run Crash, The Atlanta Personal Injury Attorney's Blog, April 8, 2013
Additional Resources:
State to investigate explosion at Georgia Power plant, by Alexis Stevens and Kristi Swartz, Atlanta Journal-ConstitutionGeorgia Power, OSHA investigating Plant Bowen explosion, by Kristi Swartz, Atlanta Journal-Constitution
Photo credit: gc85, Stock.xchng