Bicycle Rider Killed in Marietta Hit-and-Run Crash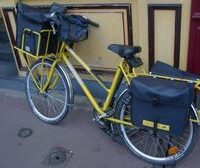 A 55-year-old man was recently killed in a hit-and-run bicycle accident in Marietta. According to a representative from the Marietta Police Department, the bicyclist was headed north on Powder Springs Street near Natchez Trace around 7:45 pm when he was hit by a black sport utility vehicle (SUV). Crash witnesses reportedly stated the driver of the SUV did not stop and instead continued heading north towards downtown Marietta. Although emergency responders purportedly took the injured man to Kennestone Hospital, the 55-year-old later died as a result of the injuries he sustained in the collision.
The deadly hit-and-run bicycle accident is currently being investigated by the Marietta Police Department's Selective Traffic Enforcement Program. Law enforcement officers are reportedly on the lookout for a "vehicle and driver of interest" captured on a nearby surveillance camera immediately before the crash.
Bicycle riders in Georgia are required to adhere to the same traffic laws as motor vehicles. The Official Code of Georgia Annotated states bicyclists under the age of 16 must wear a safety helmet at all times. Additionally, traffic laws state that bicycle riders must ride as far to the right as possible when traveling on streets in the State of Georgia. Bicyclists are also required to signal when turning or stopping. Drivers in our state must maintain a three-foot minimum safe passing distance when overtaking a bicycle on any Georgia roadway.
Unfortunately, Georgia is apparently the sixth deadliest state for bicycle riders. According to data from the National Highway Safety Administration, 630 bicyclists were killed and about 51,000 were injured in a collision with a car, truck, or other vehicle across the United States in 2009. The University of Georgia's Survey Research Center estimates that about 13 percent of Georgia residents ride a bicycle at least once per month and about 81 percent of those surveyed would ride a bicycle more frequently if additional safety measures were put in place in their community.
Too often, bicycle wrecks like this one result in catastrophic or fatal injuries. If you were harmed by a negligent motorist while riding your bicycle, you may be entitled to receive damages for your medical expenses, pain and suffering, lost wages and benefits, disability, and more. Certain relatives of someone who was killed in a bicycle crash may also be eligible to file a wrongful death lawsuit. Contact a quality bicycle accident lawyer to discuss your options for recovery in more detail.
If you were hurt or a loved one was killed in a bicycle accident, please call the dedicated attorneys at Stokes & Kopitsky, P.A. toll free at (800) 700-5050. Our caring bicycle crash lawyers have more than 30 years of experience helping accident victims throughout the State of Georgia receive the compensation they deserve based upon the severity of their injuries. At Stokes & Kopitsky, P.A., our knowledgeable attorneys are ready and willing to help you file your personal injury or wrongful death claim. To schedule a free confidential case evaluation with a committed advocate, contact lawyers Greg Stokes and Neil Kopitsky through our website.
More Blogs:
Two Forsyth County School Bus Accidents Leave One Dead, Three Hurt, The Atlanta Personal Injury Attorney's Blog, March 25, 2013
Brantley County Teenager Dies Following Bicycle Accident on Georgia 110 Near Atkinson, The Atlanta Personal Injury Attorney's Blog, March 18, 2013
Additional Resources: Bicyclist Killed in Hit-and-Run Accident in Marietta, by Melissa Kory, MariettaPatch
Photo credit: chriswoods, Stock.xchng
Categories: