5 Bicycle Road Safety Tips to Keep You Safe on Every Road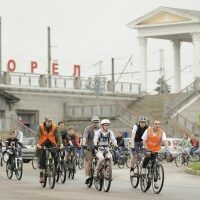 Whether you are riding a bike for exercise, as a way to relax, or in your daily commute, cyclists should take extra care to ensure their safety and avoid a bike accident. Bike riders account for more than 2 percent of all auto fatalities, most of which could have been avoided by using these five bicycle road safety tips.
Choose the Right Bike for You
Adhering to bicycle road safety can be futile without a properly safe bike.  Using the correctly-sized bike, adjusted to fit your height, allows you to maintain maximum control while riding.  Make sure the bike is in no need of repair, shifts easily, and brakes well.
Always Wear a Helmet
Regardless if you're going around the corner or heading out on a hundred mile ride, always wear a helmet. Helmets should fit snugly and not move when you shake your head.  Proper and consistent use of bicycle helmets has been shown to reduce the risk of head injury by 85 percent.
Be as Visible as Possible
< p>Wear clothing and accessories to make you more visible to others. Bright clothing (during the day), reflective vests, belts and jackets, a white front light and red rear light and reflectors on your bike can all make you more visible to passing motorists.
Know the Rules
Many accidents can be avoided simply by following the rules of the road.
Avoid riding on sidewalks. It is not only dangerous to you and pedestrians, in many places it is also illegal.
Ride where you are expected to be seen – with the flow, in the same direction as traffic.
Look before entering traffic. Look left-right-left for traffic before entering a roadway or when continuing in traffic from a stop sign or light.
Obey street signs, signals, and road markings, just like a car.
Signal and look over your shoulder before changing lane position or turning.
Expect the Unexpected
Be focused and alert to the road and all traffic around you; anticipate what others may do, before they do it. Assume drivers don't see you; look ahead for hazards or situations to avoid that may cause you to fall, like toys, pebbles, potholes, grates, or train tracks.  Refrain from texting, listening to music or using anything that distracts you by taking your eyes,  ears or mind off the road and traffic.
Despite your best efforts, accidents can still happen.  If you or someone you know has been in a bike accident, Stokes & Kopitsky can help. We can help you understand what your legal rights are and determine whether you are entitled to compensation for your injuries.