Three Critically Injured in Head-On Crash Near Moreland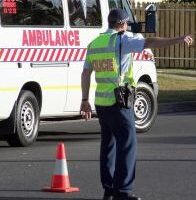 A head-on crash south of Moreland critically injured three people on Wednesday. The accident occurred on United States Highway 27 Alternate after the driver of a northbound Buick LeSabre reportedly crossed into oncoming traffic in an effort to avoid colliding with a vehicle exiting a driveway. The LeSabre, which was carrying only the driver, then struck a southbound Toyota Corolla carrying two people. Although the LeSabre remained on the roadway, the Corolla landed in a nearby ditch.
According to the Assistant Fire Chief for the Coweta County Fire Department, Mitch Coggin, all three individuals had to be extracted from their vehicles by rescue crews. It took approximately 30 minutes to get everyone out of their respective cars. Two of the critically injured parties were taken by helicopter to Grady Hospital and one was taken to Atlanta Medical Center for treatment. Following the accident, both directions of traffic were left at a standstill.
After an automobile accident injury, the chaos of phone calls and medical bills can be both frustrating and overwhelming. Although a great many car accidents are routine fender benders, they can also be severe and life-changing. Individuals hurt in a motor vehicle collision may be entitled to payment for pain, suffering, medical expenses, disability, and other damages. If an automobile accident results in death, loved ones may also be compensated for their personal loss, final medical bills, funeral expenses, and lost income. If you or a family member was hurt in a car accident, you are advised to contact a qualified personal injury lawyer as soon as possible.
Most Georgia personal injury claims are the result of automobile accidents. With so many people on the roads every day, it is not surprising a motor vehicle collision can occur quickly and unexpectedly. Common causes of car accidents include distracted, inattentive, reckless, or impaired drivers as well as hazardous road conditions and automobile defects. If you were injured in an auto crash, contact an experienced car accident attorney to discuss your rights.
If you were hurt by another driver or lost a family member in a car crash, contact Stokes & Kopitsky, P.A. Our knowledgeable Atlanta personal injury lawyers have more than 20 years of combined experience. The attorneys at Stokes & Kopitsky have your best interests at heart. You can count on Greg Stokes and Neil Kopitsky to work tirelessly until you obtain the compensation you deserve after an auto collision. Our hardworking personal injury lawyers will work diligently to achieve the best possible results based on the facts of your case. If you were hurt in a Georgia car accident, call Stokes & Kopitsky toll free day or night at (800) 700-5050. You are also welcome to request a free confidential case evaluation by contacting us through our website.
More Blogs:
What is Vertigo? How do You Prove Its Worth in a Georgia car accident, The Atlanta Personal Injury Attorney's Blog, April 5, 2012
Hall County School Bus Overturns After Driver Loses Consciousness, The Atlanta Personal Injury Attorney's Blog, March 12, 2012
Additional Resources:
Critical injuries: Three involved in head-on collision near Moreland, by John A. Winters, Newnan Times-Herald
Categories: