Passenger Bus Carrying 80 People Catches Fire on I-85 in Hart County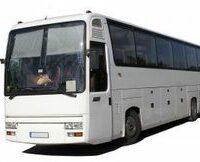 On August 8th, a double-decker motor coach operated by the Chicago-based discount bus line Megabus caught on fire while traveling on Interstate 85. The bus fire occurred on the northbound portion of the freeway in Hart County near the Georgia-South Carolina State line. The bus was reportedly carrying 80 passengers from Atlanta to Charlotte, North Carolina when one of the tires blew out. According to passengers, the rear of the motor coach caught fire as the bus driver began to stop the vehicle.
One passenger, Samaad Stewart, stated the bus driver ensured that all passengers were quickly evacuated as soon as the fire started. Not long after the last passenger exited the motor coach it reportedly became completely engulfed in flames. Fortunately, no one was injured in the incident. According to the Georgia Department of Transportation (DOT), traffic on interstate 85 was backed up for several hours as a result of the bus fire. DOT crews were forced to cut the burned motor coach into two pieces in order to remove the vehicle from the roadway. The cause of the fire is currently under investigation.
The Megabus Company has been in the news several times this month over a slew of safety-related issues. On August 2nd, one of the company's motor coaches struck an overpass support beam in Illinois. One passenger was killed and at least four dozen more were allegedly hurt in the accident. On August 7th, a passing Megabus struck a 76-year-old pedestrian in Chicago. She reportedly died as a result of her injuries.
According to the company's Chief Operating Officer, Dale Moser, Megabus recently invested $150 million in new motor coaches in an effort to improve both performance and passenger safety. He also stated the company currently holds the highest rating given by the nation's Federal Motor Carrier Safety Administration. The bus that caught fire in was manufactured in 2012 and reportedly passed a recent preventative maintenance evaluation.
Luckily, no one was hurt or burned in the Megabus incident. Still, millions of preventable burn injuries are treated throughout the United States every year. Georgia residents may sustain a burn injury in a building fire, explosion, industrial accident, motor vehicle fire, or as a result of a defectively manufactured product. When an individual is injured by a defective product, as could have been the case in this instance, a manufacturer may be held strictly liable according to Georgia law.
Unfortunately, a great many burn victims die or are permanently disabled as a result of their injuries. Burn patients often require extensive and costly medical care for their initial treatment, rehabilitation, and any required reconstructive surgeries. If you or a family member suffered a burn injury, you are advised to speak with a capable personal injury attorney as soon as you are able.
If you were injured or lost a loved one in a burn accident, call the law firm of Stokes & Kopitsky, P.A. toll free at (800) 700-5050. Our knowledgeable Fulton County burn accident lawyers are eager to help you file your personal injury case. At Stokes & Kopitsky, our attorneys have more than 30 years of collective experience assisting injured clients located throughout the State of Georgia. If you would to discuss your burn or other personal injury case, please do not hesitate to contact hardworking lawyers Greg Stokes and Neil Kopitsky through the law firm's website.
More Blogs:
Georgia Institute of Technology Creates Glove That May Improve Motility for Spinal Cord Injury Victims, The Atlanta Personal Injury Attorney's Blog, August 13, 2012
Worker Electrocuted at Richmond County School Building Construction Site, The Atlanta Personal Injury Attorney's Blog, August 6, 2012
Additional Resources:
Megabus catches fire on I-85 near SC-GA line, by Casey Vaughn, Aaron Barker, and Jade Hindmon, cbsatlanta.com
Photo credit: mzacha, Stock.xchng
Categories: