One Killed, Two Hurt in Suburban Atlanta Head-On Collision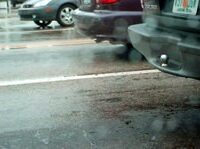 A 46-year-old former professional basketball star was critically injured and a 40-year-old woman was reportedly killed in a recent head-on motor vehicle crash in Jonesboro. According to Clayton County police spokesperson Clarence Cox, the former NBA player was driving a sport utility vehicle north on Tara Boulevard around 1 pm when he allegedly crossed the median and struck a southbound passenger van. The driver of the van purportedly sustained a broken ankle. Sadly, his wife allegedly died as a result of the injuries she sustained in the collision. Emergency responders apparently transported the former basketball player to the Atlanta Medical Center where he was initially placed on life support. Within 24 hours, he was purportedly upgraded to serious condition.
The exact cause of the deadly collision is currently under investigation. Accident investigators stated it does not appear that alcohol played a role in the fatal wreck. It is unclear whether a medical emergency caused the crash, as a family member allegedly told law enforcement officers that the former player was being treated for a seizure disorder. Jonesboro Police Chief Franklin Allen stated the former NBA star would be charged with driving on a suspended license and failure to maintain his lane. Chief Allen declined to comment regarding whether additional charges may be brought against the 46-year-old in the future.
It is a sad fact that thousands of individuals die on roadways across the United States each year. Regrettably, most traffic collisions are caused by driver negligence. In Georgia, a crash victim or the family of someone who died in a motor vehicle wreck may have legal recourse against a negligent motorist. In addition, the owner of a vehicle that was involved in an injury accident may also be held financially liable for any harm associated with a wreck. If you were injured or lost a family member in a Georgia automobile crash, you may be entitled to collect financial compensation for your medical costs, any lost wages and benefits, pain, suffering, disability, funeral expenses, and other damages. A quality car accident attorney can help you file your case.
You should call Stokes & Kopitsky, P.A. toll free at (800) 700-5050 if you were injured or a loved one was killed in a motor vehicle collision. Our dedicated Jonesboro car accident lawyers have more than 30 years of experience helping the victims of negligent motorists. At Stokes & Kopitsky, our caring attorneys will help you recover the damages you deserve based upon the severity of your injuries. Our hardworking lawyers are ready and willing to explain your rights and assist you with filing your personal injury claim. To schedule a free confidential case evaluation with an experienced attorney, please contact attorneys Greg Stokes and Neil Kopitsky through our website.
More Blogs:
Hartwell Manufacturing Company Fined $62,000 for 13 Purported Health and Safety Violations, The Atlanta Personal Injury Attorney's Blog, May 29, 2013
10-Year-Old Tragically Killed, Six Others Hurt in Clay County School Bus Accident, The Atlanta Personal Injury Attorney's Blog, May 20, 2013
Additional Resources:
Former NBA star Mookie Blaylock faces charges in crash, by Kristina Torres, Atlanta Journal-Constitution
Blaylock critical after wreck; 1 dies, espn.go.com
Photo credit: ERsCarter, Stock.xchng
Categories: