Lavonia Motorcyclist in Critical Condition Following Head-On Collision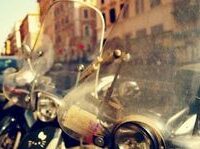 A 30-year-old Lavonia man is in critical condition following a recent motorcycle crash on Lavonia Highway. According to Hart County Sheriff Mike Cleveland, Mitchell L. Farmer was headed home on his Harley Davidson motorcycle when a Honda Accord driven by a 34-year-old Elberton woman crossed the center line and struck him head-on. The driver of the Honda, Brittni Michelle Allor, also allegedly side-swiped another vehicle immediately prior to the collision with Farmer's motorcycle. No one was injured in the vehicle that was side-swiped.
Sheriff Cleveland stated both alcohol and speeding contributed to the crash. He also said based on roadway skid marks, he believed Allor was likely travelling in excess of 100 miles per hour. Following the accident, Farmer was taken to Greenville Memorial Hospital with serious injuries. Allor was taken to Hart County Hospital for minor injuries and later released.
Following her release from the hospital, Allor was arrested and charged with driving under the influence, improper passing, driving on the wrong side of the road, and serious injury by a vehicle. She currently remains in the Hart County Jail awaiting a hearing on her potential bond. Sheriff Cleveland stated if Farmer does not recover from his accident injuries, Allor will likely also be charged with vehicular homicide. Although the Georgia State Patrol investigated the accident, a member of the Georgia Specialized Collision Reconstruction Team reportedly provided assistance.
The injuries received in a Georgia motorcycle accident are often severe and life-changing. Individuals who are hurt by another driver may be entitled to compensation for suffering, pain, medical expenses, and disability. Additionally, loved ones may be compensated for lost income, final medical bills, funeral expenses, and their personal loss following a fatal motorcycle accident. If you or a family member was hurt in a motorcycle accident, you should contact an experienced Georgia personal injury attorney as soon as possible.
Most personal injury claims filed in Georgia stem from motor vehicle collisions. Unfortunately, such accidents are commonly caused by reckless or impaired drivers. When people choose to get behind the wheel while under the influence of alcohol or drugs, they pose a hazard to everyone who crosses their path. Victims can be killed or sustain traumatic and disabling injuries such as a damaged spinal cord and brain injuries.
Contact the lawyers at Stokes & Kopitsky if you were hurt by another driver or lost a family member in a motorcycle collision. Our hardworking Atlanta personal injury attorneys have more than 20 years of combined experience helping individuals who were hurt in an unexpected motorcycle accident receive fair compensation. The dedicated lawyers at Stokes & Kopitsky will always work diligently to achieve the best possible results based on the facts of your case. To speak with a capable Georgia car accident attorney today, call Stokes & Kopitsky toll free at (800) 700-5050 or contact us through our website.More Blogs:
How to Deal with Road Rage as an Atlanta Cyclist, The Atlanta Personal Injury Attorney's Blog, April 12, 2012
Three Critically Injured in Head-On Crash Near Moreland, The Atlanta Personal Injury Attorney's Blog, April 9, 2012
Additional Resources:
Car, motorcycle collide, by Lauren Peeples, The Hartwell Sun