Cumming Man Killed in Alpharetta Multi-Car Crash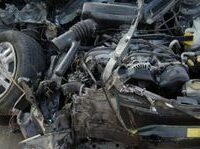 On April 11th, a Cumming man was killed on Georgia 400 near the northbound entrance ramp from Haynes Bridge Road in Alpharetta. 67-year-old Edward Kivlin died after his Nissan Pathfinder was reportedly struck by a Honda Civic that was trying to merge onto the Georgia 400 roadway. According to the Alpharetta Department of Public Safety, a preliminary investigation revealed that both drivers lost control following the collision and the Honda left the roadway. After the initial crash, the driver of a Dodge minivan traveling on the entrance ramp reportedly collided with Kivlin's Nissan. Kivlin's vehicle then struck a guardrail and rolled repeatedly down a grassy embankment.
Kivlin died at the scene of the crash. The driver of the Honda Civic was taken to North Fulton Hospital with apparent injuries. Meanwhile, the driver of the Dodge minivan was reportedly not hurt in the accident. The collision closed the entrance ramp and two lanes of Georgia 400 for several hours. The Alpharetta Department of Public Safety also closed portions of the roadway on April 19th in an attempt to reconstruct the fatal accident.
In Georgia, we spend a lot of time in our vehicles. Unfortunately, an unexpected car crash can occur at any time. The injuries sustained in an automobile accident can be severe and life-changing. Most of the personal injury claims filed in our state each year result from automobile collisions. Car accidents are commonly caused by reckless, impaired, or inattentive drivers. When someone decides to get behind the wheel while impaired, they pose a hazard to everyone on the roadway. Driving too fast and sending text messages or emails behind the wheel also puts others at grave risk.
Folks who are injured by another driver may receive damages for pain, suffering, medical costs, and any resulting disability. Additionally, if someone is tragically killed in a Georgia car accident, family members may receive compensation for lost income, final medical expenses, funeral bills, and personal loss. If you or your loved one was hurt in a motor vehicle accident, it is a good idea to contact a knowledgeable Georgia personal injury lawyer as soon as you are able.
If you were hurt due to another driver's negligence, contact the attorneys at Stokes & Kopitsky. Our hardworking Atlanta automobile accident attorneys have more than 20 years of combined experience assisting those hurt or disabled in a car crash receive the compensation their injuries merit. At Stokes & Kopitsky, our dedicated lawyers work diligently to achieve the best possible results for you based on the facts of your personal injury case. For a free evaluation of your case, call Stokes & Kopitsky toll free at (800) 700-5050 or contact us through our website.
More Blogs:
Winning Opening Statements in Atlanta Injury Cases, The Atlanta Personal Injury Attorney's Blog, April 19, 2012
Lavonia Motorcyclist in Critical Condition Following Head-On Collision, The Atlanta Personal Injury Attorney's Blog, April 16, 2012
Additional Resources:
Cumming Man Victim in Fatal Accident in Alpharetta, by Bob Pepalis, Cumming Patch
Categories: