Woman Killed by her own Car in Pileup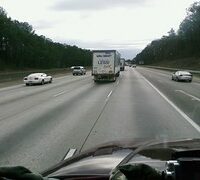 If you travel along the interstates of Georgia, occasionally you'll see signs that tell you to pull your vehicle over to the shoulder if possible after a crash. This not only keeps the roads clear, but also helps people avoid accidents. However, even when this warning is followed it is very dangerous to get out of your vehicle after an accident. Care must be taken, or further mishap can result.
That's what happened to one woman this morning according to Fox News Atlanta. She was on Interstate 85 going southbound when she struck a guard rail just after an exit. She got out of the vehicle to inspect the damage, but then her car was struck by a second vehicle. That pushed the first car into the woman. A third car was also involved in the incident according to the video report.
In the aftermath of a crash, one of the things investigators will look for is whether or not people were following the law. The results of these investigations can affect the results of both criminal and civil suits. If you were doing the right thing, but got injured anyway, the chances of you receiving compensation are higher. However, if you do the wrong thing, like leaving the scene of an accident, the tables can turn very quickly.
If you have been injured in any sort of accident, you will need legal advice to tell you what your chances are for receiving compensation. The lawyers at Stokes & Kopitsky are ready to help you make that determination. Call our law offices today for more information about how we can help you after your accident.