Winter Storms Round 2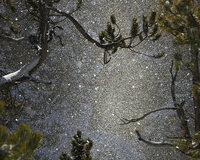 Not two weeks after a mid-day snowstorm caused a massive traffic snarl for Atlanta, a second winter storm is now upon is. This one is expected to be worse than the one that hit earlier, with snow and other precipitation expected to fall until Thursday. This time, the city is working well in advance to help keep roads clear, and have asked people to stay home and off the roads.
Jokes about how southerners cannot drive in snow and ice aside, ice is a serious problem in a city that is still very inexperienced in making roads safe for drivers during these conditions. The governor has declared a state of emergency for 88 counties in Georgia, and people are flocking to stores for ice melt and basic supplies.
If you must go out, follow these safety tips to avoid getting stuck or slipping off the roads:
Drive slow. The less momentum you have, the easier it will be to stop.
Avoid hilly areas if at all possible.
If you feel the car just start to slip, do not slam on the brake and keep the wheels straight. Pump the brake gently to slow down.
If the car begins to turn, turn the wheels into the turn and pump the brake.
If you do get stuck, do not push hard on the accelerator. That will compress the snow into more ice. Instead, put the car into low gear and see if the idle can pull you out.
The best safety tip we can give is to stay home. Driving in these conditions is very risky. Stay safe out there. This has been a message from Stokes & Kopitsky, personal injury lawyers.